RIDING BIKE HIT BY CAR IN BIKE LANE – INJURY LAWYERS MN
Minnesota has thousands of miles of bike paths and bike lanes designated for riders.  However, many of the bike lanes share the road with cars. Therefore, the rider depends on the car driver to be aware and not hit them in the bike lane. However, any vehicle can have a distracted driver, even if for a moment.  When a car hits a bike riders, there is usually a serious injury for the bike rider – even riding in the bike lane. One reason is that the bike is either hit from behind or the side. The rider will impact the car and then the ground, often causing a broken bone or other serious injury.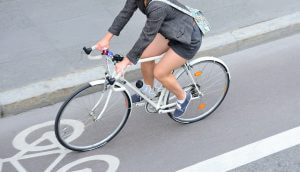 BICYCLE HIT IN BIKE LANE INJURY COMPENSATION ATTORNEY
Our lawyers represent people injured when a car hits a bicycle rider or motorcycle rider. In most cases, the driver was not paying attention or was distracted.  The bike lane is designed specifically to allow space for people riding a bicycle and should be safe. Accidents in a bike lane are almost always the driver's fault. The driver's auto insurance must therefore pay compensation to the bike rider.
Our lawyers have more than 25 years' experience representing people injured in accidents throughout Minnesota.  Many of our cases involve a bike rider hit in the bike lane. We will help you recover medical bills, lost wages, and more.
The primary focus of our best bike accident lawyers is to make sure the injured bike rider receives all of the compensation they are entitled to and that the car driver is held responsible. We work to get the medical bills paid and lost wages reimbursed. There is also compensation for scars and permanent injuries, and for the pain and suffering of the accident.  Medical bills can be significant, but that is just the starting point. If you have been hit by a car while riding your bike in the bike lane, call us and speak with an attorney for a free consultation.