AUTO ACCIDENT ATTORNEYS – MN LATE NIGHT CRASH WHEN SUV CROSSED CENTER LINE
The Minnesota State Patrol reported yesterday that a 30-year-old man died after a head-on crash early Monday in Crow Wing County. About 1:40 a.m., a pickup westbound on Highway 210 crossed the center line and collided with a semi that was going east. The pickup then went into the east ditch and rolled. The semi also ended up in the ditch. Of course, the semi is so big, its size often provided some protection to the driver.
Sadly, the driver of the pickup was killed in this tragic auto accident. This tragedy will of course completely upend the lives of his surviving family.
The driver of the semi reportedly suffered injuries that are not life threatening. However, his life will of course also be changed forever.
LATE NIGHT CAR CRASH INJURY
Our Minnesota auto accident lawyers have represented hundreds of people injured and the families of people killed in a crash on roads throughout MN. We don't know why the driver crossed the center line in this late night accident. A crash like this, at 1:40 a.m., could be the result of a drunk driver, someone falling asleep at the wheel, or simply fatigue and inattention. No matter the cause, a family is uprooted, both psychologically and financially. Our top Minnesota lawyers work to help the surviving family get through the insurance issues after a fatal car accident where the other driver crosses the center line, or any other reason.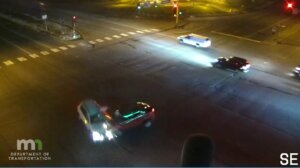 If you or a family member have been injured in an auto accident in Minnesota, call us and speak with an attorney for a free consultation. We will meet you at our offices in Edina, Minneapolis, or Woodbury. However, we also come to people's homes throughout Minnesota. Pam Rochlin and David Rochlin are experienced, having represented hundreds of people injured in auto accidents throughout MN. Our attorneys are tough and get the best possible results. Our MN car accident lawyers work with you to make sure you and your family get the car accident compensation you are entitled to. We are honest with our clients, patiently explain the insurance issues about their case and always provide personal attention.