ATTORNEY FOR WALKING IN CROSSWALK CAR ACCIDENT MN
WCCO news recently published on online report of a car accident in Hopkins MN.  It was around six Wednesday morning when a vehicle struck a pedestrian in the crosswalk on Main Street and 17th Avenue. The car didn't even stop. Police believe a driver in a dark-colored SUV is responsible. But they're also looking for other drivers and witnesses who may have answers.  Our car accident lawyers have represented many MN families in this type of tragic situation.
The woman's husband got the call just minutes after it happened on a rainy and dark Wednesday morning. Because of this crosswalk car accident, his wife of 33 years lay severely injured in on a street you can see from the house she grew up in and they now shared.
The woman called her husband before she died. She told him she had the green light when a dark colored SUV hit her walking in the crosswalk and drove off. Her condition quickly deteriorated. Doctors at Hennepin County Medical Center were unable to save her.
"I didn't have time to tell her how much I loved her," her husband said.
HIT BY CAR CROSSING THE STREET – TOP LAWYERS
Hopkins police are now asking the drivers of two vehicles to call them — a Dodge minivan and another vehicle with a body style similar to a Toyota Matrix or Honda Fit. They believe these drivers may know more about the SUV that hit the woman in the crosswalk. The police believe that the SUV driver absolutely knew he hit someone in this crosswalk auto accident and chose to flee the scene.
Before the accident, the woman was about to catch a bus to her weekly Alcoholics Anonymous meeting in downtown Minneapolis that morning. She'd been sober for more than 40 years but kept going to inspire others.
There is no excuse for this situation.  A person in a crosswalk should be able to cross the street safely. Her life was ended prematurely, and her surviving family is devastated. Our attorneys work to bring some degree of justice to situations like this.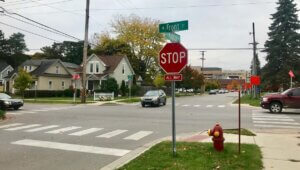 MN INJURY COMPENSATION ATTORNEYS
If you are injured because a car hit you while you were crossing the street in a crosswalk, or a loved one has been killed in a car accident in MN, call us and speak with a lawyer. We will provide a free consultation about your rights and the insurance coverage available to you. Our top MN car accident lawyers have more than 25 years' experience representing hundreds of people injured in these terrible situations.
We have offices where you can meet an attorney to discuss your auto accident in Minneapolis, Edina, Woodbury, and St. Louis Park.  Our car accident attorneys also make house calls throughout Minnesota including St. Paul, Roseville, Burnsville, Chanhassen, Chaska, Apple Valley, St. Cloud, Albert Lea, and other areas throughout the state.