ICY ROAD CAR ACCIDENT MN LAWYERS
Our car accident attorneys handle many crash injury cases in Minnesota that were contributed to by ice on the road. Sometimes a driver who slides into someone will say that the accident was not his fault because he hit an unexpected patch of black ice. The insurance company for the other driver will definitely be happy to go with that excuse. While it may by possible that a crash is caused by unexpected black ice, that is not actually a common reason for an auto accident to occur.
Every time someone injured in a car accident calls our office, a MN auto accident lawyer will investigate the case, including why it happened.  On state highways, or in particularly bad car accident injury cases, the MN State Patrol will conduct a reconstruction of the crash. In general, our MN auto accident lawyers have found that while an icy road may contribute to a crash, it is most often a driver's fault that it actually happened – usually because they were driving too fast for the road conditions or too close to the car ahead of them. Ice on the road means you should drive slower. It is not an excuse to cause a car accident.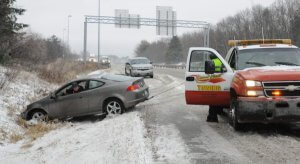 DRIVING TOO FAST FOR ROAD CONDITIONS
Too many drivers simply fail to slow down and leave more space between cars when the roads get icy or the weather is bad.  People who live and drive in Minnesota know that snow and ice are part of the winter climate and they must adjust their driving to avoid causing a car crash.  Most of the time, when an auto accident lawyer from our office looks at icy road crash in MN, it is caused because the other driver did not take adjust their driving behavior. Sometimes people are impatient, or overestimate the safety of their own car or driving ability.
Minnesota law requires drivers to driver safely according to the road conditions.  Even if the speed limit is 55 miles per hour, the driver cannot legally drive at that speed if the conditions of the road make it unsafe. This is true for cars, and even more so for trucks. If the driver is driving too fast or following too close, it is not a reasonable excuse to blame ice on the road when a crash occurs.
CAR ACCIDENT INJURY COMPENSATION ATTORNEY
Our MN car accident injury attorneys hold unsafe drivers accountable for their irresponsible driving when someone is injured in an accident.  Our lawyers make sure that when our client sustains a car accident injury, he or she receives all the insurance benefits he or she is entitled to. We work to make sure you are fairly compensated for the injury. This includes medical bills, lost wages, future needs, and pain and suffering.
If you have been injured in a car crash on an icy road in MN, call us and speak with a top auto accident lawyer for a free consultation. Pam Rochlin and David Rochlin are Minnesota personal injury lawyers with more than 25 years of experience handling hundreds of car accident injury cases. A car accident attorney will discuss your case with you, answer your questions, and explain your rights. Our auto accident injury lawyers are also happy to meet with you at our office or your home for a free consultation.
A lawyer will meet with you to discuss your car accident injury case at our offices in Minneapolis MN, St. Louis Park, Woodbury, and Edina. You can also meet with a car accident injury lawyer to discuss your car accident from ice road condition case at your home in St. Paul MN, Anoka MN, Chanhassen, Chaska, Eden Prairie, Maple Grove, and Rogers. Also, Brooklyn Park, Bloomington, Richfield, Apple Valley, Roseville, Maplewood, and other surrounding cities in Minnesota. There is no obligation on your part, and you never pay us anything unless you are compensated for your injuries.