CAR CRASH ON VACATION – AUTO ACCIDENT LAWYER MN
The stretch from Memorial Day to Labor Day are the 100 deadliest days on Minnesota roads, according to the Department of Public Safety's Office of Traffic Safety. Last year, 120 traffic deaths occurred during this family vacation time, 31 percent of total traffic deaths in 2021. At the Rochlin Law Firm, our auto accident lawyers represent MN people injured in a car accident and the family of people killed in a crash every year.
We are often asked if winter is our busy time of year because there are more crashes with the snow and ice conditions.  Surprisingly however, it is actually summer, when people on vacation driving, that produces the most injury auto accidents in Minnesota. Our car accident lawyers actually get more cases in the summer than the winter.
Between 2012-2021, the number of drunk driving, speed and distraction-related traffic deaths has fluctuated. But, compared to 2012, preliminary 2021 data has shown an increase in total traffic deaths. According to the Office of Traffic Safety, about 250 injuries are caused by alcohol-related accidents every year. The Office of Traffic Safety reports 115 traffic deaths to date, compared to 125 deaths this time in 2016.
VACATION CAR CRASH ENFORCMENT
In response, troopers, deputies and officers will increase law enforcement throughout the summer. More than 300 law enforcement agencies participated in the Click It or Ticket campaign. The purpose is to encourage motorists to buckle their seat belt during the Memorial Day weekend to avoid a car accident injury on vacation. From July 7-23, law enforcement will focus on speeding motorists, and from Aug. 18-Sept. 3, the focus is on impaired drivers. The obvious goal of law enforcement is to reduce the number of car accident injury cases in Minnesota, in the summer vacation period.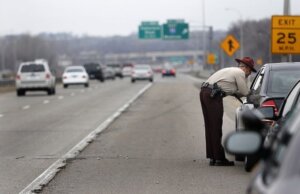 According to the data, speed, distracted driving, unbuckled seat belts and drunk driving are the leading causes of traffic deaths in Minnesota. The Office of Traffic Safety has four primary suggestions to void a car crash: Drivers need to not use their phone while they drive; only move the vehicle if all passengers are buckled up; slow down; and pick a designated driver before consuming alcohol. All good suggestions to reduce the likelihood of an injury and the need for a car accident lawyer in MN.
CAR ACCIDENT LAWYERS
If you or a loved one have been seriously injured in a summer vacation car accident, please call us and speak with an attorney for a free consultation. Our car accident attorneys have a 25-year record of successful experience representing people injured in crashes throughout Minnesota.  Pam Rochlin is a former partner at Meshbesher & Spence, offering personal attention to each client. Pam was also the 2015 president of MN Women Lawyers and served on the board of the Minnesota Association of Justice.
When you call our office you will speak with a top auto accident lawyer for a free consultation. You can meet a lawyer at our offices in Edina, Minneapolis, or Woodbury.  A best attorney will also come to you and meet at your home to discuss a car accident injury case in St. Paul, Roseville, Forest Lake, Lino Lakes, Brooklyn Park, Brooklyn Center, Maple Grove, Anoka, Champlin, St. Cloud, and other cities throughout Minnesota.