EDEN PRAIRIE MN CAR ACCIDENT LAWYER
A car crash near Highway 101 at Choctaw Circle in Eden Prairie resulted in the death of one driver and life-threatening injuries to another. The accident happened around 10 p.m. Wednesday evening. According to State Patrol, a Honda Civic traveling southbound on Highway 101 veered in front of oncoming traffic. Not surprisingly, this resulted in a head-on collision with a Chevrolet Silverado headed northbound.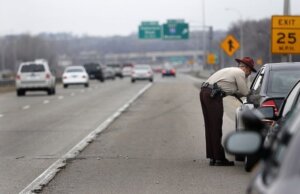 The driver of the Honda died from injuries sustained during the crash.  Additionally, the driver of the truck sustained life-threatening injuries. He was taken from the Eden Prairie car crash to Hennepin County Medical Center, according to Minnesota State Patrol's incident report.
EDEN PRAIRIE POLICE AND MN STATE PATROL
"We won't know if the deceased driver had alcohol in her system until after we get the medical examiner's report," the State Patrol officer said. "However, we do know that the driver of the Chevrolet had no indication of alcohol in his system." Minnesota State Patrol will do a crash reconstruction to determine the cause of this fatal auto accident. The accident could have been because of distraction. Typical distractions include cell phone use, texting, falling asleep, etc. Our car accident lawyers have seen each of these causes in our injury cases.
"We will see if there were any barriers on the road that could have caused the injury accident. Of course, we will also look at the vehicle's black boxes to reconstruct the crash scene," the officer said. "Fortunately, there was a witness to the crash, which will help with the reconstruction. One thing we try to do is pinpoint where the crash occurred. Next, we try to determine the speed of the vehicles. There is a sensor that can tell the speed of the vehicle. We will compare that to the witness statement." The investigation of this Eden Prairie car accident will take some time. Therefore, the family and their car accident attorneys have to be patient.
CAR ACCIDENT LAWYER NEAR EDEN PRAIRIE
If you have been injured in a car accident near Eden Prairie MN, call us and speak with a lawyer for a free consultation. Our auto accident lawyers have over 25 years' experience helping hundreds of people injured in accidents in Eden Prairie and throughout Minnesota. We will explain your rights to you and make sure you get the car accident insurance compensation you are entitled to.  We have an office near Highway 100 and Crosstown 62. In addition, our lawyers also meet car crash victims at their homes in Eden Prairie, Chaska, Chanhassen and the surrounding areas.