PASSENGER INJURED IN ACCIDENT WHEN VEHICLE HIT DEER – DO I HAVE CASE AGAINST THE DRIVER OR OWNER OF THE VEHICLE?
In rural areas of Minnesota, and even some newer more developed areas, it is common to see deer on the road at feeding times. This is usually about dusk. Good drivers know that they have to be alert for deer at those times, and drive slower.  It is common knowledge in Minnesota that a deer can run out on the road. When you hit a deer, it can be a serious accident.
When a car traveling at highway speeds hits a deer, there will usually be serious damage done to the vehicle. Further, our lawyers are aware of many cases where the driver or a passenger is injured. We have had a number of cases where the passenger is injured when the car hits a deer. Usually, the driver was driving too fast and not keeping a careful lookout.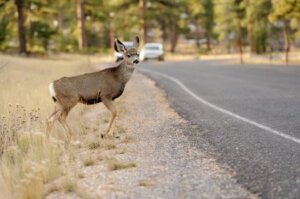 HITTING DEER OFTEN AVOIDABLE
The driver will say that the deer jumped in front of the car or suddenly ran out onto the road from the woods. However, these incidents are often the driver's fault.  Many roads in MN are marked as frequent deer crossings.  But more importantly, the driver should know to be cautious and alert when driving during feeding times.  The driver should slow down and really watch the sides of the road. Our attorneys have found that many times a crash between an automobile and deer is simply the result of the driver driving too fast or not paying close enough attention to see the deer coming.
If a passenger is injured because a car or other vehicle hits a deer, the passenger has a claim or could sue for the driver's auto insurance. Automobile insurance covers an injury accident where a car hits a deer, even if the driver is related to the passenger. At a minimum, the passenger is entitled to no-fault benefits  to pay for medical bills and lost wages resulting from the car – deer accident. There may also be liability insurance coverage for pain and suffering because of the negligence of the driver not avoiding hitting the deer.
CAR ACCIDENT PASSENGER RIGHTS
If you are a passenger injured in an automobile accident because the car hit a deer, call our office and speak with an attorney for a free consultation. A car accident lawyer will answer your questions about the deer accident and carefully explain your rights to you.  Pam Rochlin and David Rochlin have more than 25 years' experience. We have helped hundreds of people injured in a MN car accident, including where a car hits a deer.  We will make sure you get all the insurance compensation you are entitled to for your accident injury.
An attorney can meet with you to discuss your injury in a car accident at our offices in Edina, Woodbury, Minneapolis, or St. Louis Park.  Our MN auto accident lawyers also meet people at their homes or hospitals in St. Paul MN, Roseville, White Bear Lake, Forest Lake, Brooklyn Center, Plymouth, and Maple Grove. Also, Rogers, Chaska, Chanhassen, Bloomington, Richfield, Albert Lea, Burnsville, and other cities throughout Minnesota.