PASSENGER INJURED IN TAXI CAB CAR ACCIDENT – MINNESOTA LAWYERS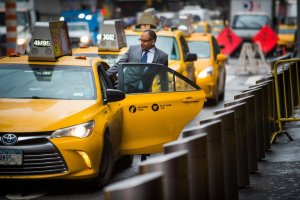 Our lawyers have spent the last 25 years representing people injured in car crashes throughout Minnesota, including people who are a passenger in a taxi cab or who are hit by a taxi.
In one case, our client was a passenger in a taxi driven on a city street. She had just gotten off of work and decided to take a taxi home. After picking her up, the taxi headed westbound on Golden Valley Road near the intersection of Russel Avenue north. The driver of the other vehicle was headed east on the same road. As both vehicles approached the intersection, the light for each of them was green.  As both vehicles entered the intersection, the oncoming car made a left hand turn crossing in front of the taxi. Unfortunately, the taxi driver did not react in time, and the two vehicles collided.
Our client believes the taxi was driving too fast and should have been able to avoid the crash. Further, the impact of the taxi cab would have been less if they were driving slower and applied the brakes before the collision.
Our assessment of fault in the collision is 80% to the oncoming car for failure to yield, and 20% to the taxi driver for driving too fast and not avoiding the collision. Unfortunately, the other car was uninsured.  However, our auto accident lawyers were still able to get full compensation for our client from the taxi's insurance. Taxis have certain licensing requirements in Minnesota, including the requirement to be insured.  Here is the link: https://www.dmv.org/mn-minnesota/special-licenses.php
EXPERIENCED EFFECTIVE CAR ACCIDENT ATTORNEYS
Our top car accident lawyers have sued several taxi companies because of the negligence of their driver.  Our primary focus is to make sure our injured client is fully compensated for medical bills, lost wages, and pain and suffering. If you have been injured in an auto accident while riding in a taxi, call us and speak with a best MN lawyer for a free consultation.  We will answer your questions and make sure you get the compensation you are entitled to from the taxi's or the other car's insurance.
You can meet with a car crash attorney at our offices in Minneapolis, Edina, St. Louis Park or Woodbury.  One of our car accident lawyers will also come to your home to discuss your taxi accident in St. Paul, Roseville, Burnsville, Mankato, Plymouth, Maple Grove, Anoka, and other cities throughout Minnesota.