MN CAR ACCIDENT LAWYER – INJURED BY SEATBELT AIRBAG ATTORNEY
If you have been injured in an auto accident, our MN attorneys can answer your questions and make sure you get fully compensated. An experienced car accident lawyer can be crucial in presenting your case and making sure you are treated fairly by the insurance company. Our car accident attorneys in Minnesota understand the law and how to get fair compensation through settlement or trial. We have been doing this for over 25 years.
SEAT BELT INJURY FROM CAR ACCIDENT
Here is a recent article from the Department of Transportation regarding seatbelt use in Minnesota. Our best MN auto accident lawyers have seen many cases where people were not wearing their seat belt and suffered terrible injuries that might have been prevented or minimized. However, as a top car accident attorney can tell you, you can also actually be injured by the seatbelt or airbag. We have had many cases where the car accident injury was from the seat belt or air bag. Nonetheless, wearing a seat belt can save your life.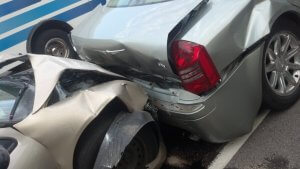 Buckle Up, Minnesota!
A record percentage of Minnesotans buckle up — 94 percent.  Nonetheless, each year more than half of the motorists killed in crashes aren't belted — translating to more than 150 deaths and more than 400 serious injuries annually.
In rollover crashes, unbelted motorists are often ejected from the vehicle.  In many cases, the vehicle will then rollover them. Even in less severe crashes, an un-belted motorist will crack teeth out on the steering wheel or break their nose.  Additionally, the person not wearing a seatbelt may even slam into and injure others in the vehicle.
Seat belts restrain motorists in the vehicle's designed protective space, giving them room to live in the event of a crash. Seat belts also keep a motorist correctly positioned behind the wheel to help maintain control of a vehicle.
Minnesota's Primary Seat Belt Law
Drivers and passengers in all seating positions must be buckled up or in the correct child restraint. Law enforcement will stop and ticket unbelted drivers or passengers — including those in the back. A seat belt violation can result in a ticket costing more than $100.
Seat belt enforcement of this law begins with the motorist — speak up and insist passengers are buckled up.
Seat Belt Use Safety Tips
Always buckle up — and insist passengers are belted, too. In a crash, unbelted motorists can slam into and injure or kill others inside a vehicle.
Wear lap belts low and snug across the hips; shoulder straps should never be tucked under an arm or behind the back — not only is this unsafe, it is illegal.
Children under age 13 should always ride in the back seat. Kids under 4-feet 9-inches should be in a booster seat. Learn more about the child passenger safety and the booster seat law.
Pregnant women should wear the lap belt under the stomach, as low on the hips as possible and against the upper thighs. In addition, the shoulder belt should rest between the breasts.
Airbags are designed to work with seat belts to keep vehicle occupants in a safe position during a crash. Unfortunately, airbags are not effective when the motorist is not belted.
CAR ACCIDENT SEATBELT INJURY MN LAWYERS
If you have been injured in an auto accident in MN, whether you were using a seat belt or not, call our attorneys for a free consultation. Pam Rochlin and David Rochlin are Minnesota personal injury lawyers with more than 25 years of experience handling hundreds of car accident injury cases including crashes caused by a drunk driver and rollover accidents.
An auto accident attorney will discuss your case with you, answer your questions about injured by seat belt, and explain your rights. Injury from an airbag or seatbelt in a car accident can be serious.
INJURED BY AIRBAG IN CAR ACCIDENT
With an airbag, the injury can be hearing loss, vision loss, or burns.  A seatbelt injury from a car crash can be to the shoulder or arm, internal organs and other problems. Our MN car accident lawyers will meet with you at our office or your home for a free consultation. Our best lawyers will meet with you to discuss your car accident case at our offices in Minneapolis MN, St. Louis Park, Woodbury, and Edina.
An auto accident lawyer will also meet people to discuss their case at their homes in St. Paul MN, Chanhassen, Chaska, Eden Prairie, Maple Grove, Rogers, Brooklyn Park, Bloomington, Richfield, Apple Valley, Roseville, Maplewood, and other surrounding cities in Minnesota. There is no obligation on your part, and you never pay us anything unless we obtain a recovery for you.