CAR STOPPED ON SIDE OF ROAD HIT BY ANOTHER VEHICLE
Our Minnesota car accident lawyers saw a recent report about a driver killed in Bloomington Friday morning.  His vehicle stalled on I-494. He had been driving eastbound I-494 at Hwy. 77 near Fort Snelling.  Unfortunately, his car stalled in the center lane and he was hit by a Ford transport truck at 6:15 a.m., the Minnesota State Patrol reports.
The driver of the Subaru, a resident of Minneapolis, was killed in the collision. The 57-year-old driver of the Ford van, who lives in Burnsville, suffered non-life-threatening injuries.
The crash caused delays on I-494, which was reduced to one lane eastbound as emergency responders handled the scene.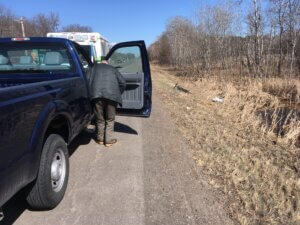 Our best MN car accident attorneys have represented many people injured because they were hit by another car while stopped on the side of the road. There have also been cases where they were driving slowly because of a car problem or because of weather. Unfortunately, other cars on the road are often distracted or not paying attention.  When the other driver is not paying attention, they may not notice another car stopped on the highway, even with their hazard lights flashing. Often, they just assume the other cars are driving highway speeds at all times.  However, this is not always true. Traffic can slow or stop for many reasons.
This failure to pay attention while driving can lead to a tragic result when there is a stalled vehicle, or vehicle stopped along the side of the road that gets hit by another car. In one recent case, our lawyer represented the people in a car struck by a truck because they slowed to a stop for the bad weather, but the truck driver didn't.
INJURED IN CAR ACCIDENT TOP LAWYERS
If you are injured in a car accident, call us and speak with an attorney for a free consultation.  Our lawyers have more than 25 years' experience successfully representing people injured in car accidents throughout Minnesota, including where they are hit while stopped on the side of the road. We make sure our clients get all the insurance compensation they are entitled to. A top car accident lawyer will answer your questions and make sure your rights are protected. Also, we never charge anything unless and until you receive compensation.