CAR SUDDENLY PULLS ONTO ROAD CAUSED CRASH – DRIVER AT FAULT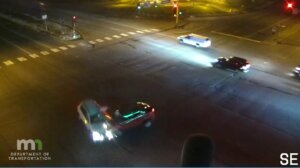 Our lawyers frequently get cases where a car suddenly pulls out from a parking lot or driveway onto a road. The car that pulled out will sometimes crash into our client, or it may cause our client to crash into them. MN law requires a car entering a road to yield to oncoming traffic. When a driver pulls out from a parking lot or driveway and causes an accident, that driver is responsible.
DRIVER DIDN'T LOOK OR WAS DISTRACTED
Most of these accidents happen because the driver pulling out looks to their right and then doesn't see the car coming from their left. However, many crashes also occur because the driver was distracted.  The driver might be on the phone or adjusting their radio. Fortunately, the driver who caused the crash will usually admit it.  However, sometimes they claim our client was driving too fast or should have seem them and avoided the crash. Our car accident lawyers have experience proving the other driver's fault in these cases.
INJURED FROM CAR CRASH
There can be serious injuries from this type of crash.  We have had many cases where the car that suddenly pulls out will T-bone the oncoming vehicle.  Therefore, our client may be pushed into oncoming traffic and hit a second time.  Even the airbag deployment can cause injury. The airbag is most likely to deploy when you hit the car that suddenly pulls out in front of you.  But, our attorneys have also had many cases where our client's vehicle was hit on the side by the car pulling out onto the road – and the front airbags still deploy. Either way, the injury from the collision can be a broken bone, serious laceration, neck or back injury, etc.
CONTACT AN AUTO ACCIDENT ATTORNEY
The attorney at our firm have more than 25 years' experience representing people injured in car accidents throughout Minnesota.  Our primary focus is to make sure you get the compensation you are entitled to.  We start with your initial medical bills and wage loss.  However, we know injuries can be permanent and require future treatment. Therefore, we will work to thoroughly prove those as well, plus compensation for your pain and suffering. The initial consultation is free, and we never charge anything unless you receive compensation.