AUTO ACCIDENT INJURY SINGLE CAR INSURANCE ATTORNEY
If you are injured in a one-car accident in Minnesota, you still have rights to insurance benefits. In other words, there does not have to be another car involved.  If you are the driver of the vehicle, you are entitled to No-Fault insurance coverage for your medical bills and lost wages. You get this insurance coverage even if you were at fault in the single vehicle accident. No-Fault insurance benefits are available for your one car accident even if you were speeding, texting, lost control on ice, or just not paying attention.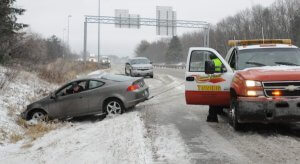 Whatever the reason for the crash, you can receive No-Fault insurance payments. That is part of the insurance contract you purchased and is required by law. Our Minnesota car accident lawyers have represented many people injured in a one car accident.
PASSENGER INJURED DRIVER'S FAULT
If you are a passenger in a single car accident, you also have the right to auto No Fault insurance. Again, this will cover your medical bills and lost wages. However, you may also be entitled to additional insurance compensation if the driver was at fault and caused the crash. Your No Fault benefits as a passenger come from your own automobile insurance, or the insurance of a family member you live with.  However, if you don't have your own car insurance, you will still be able to get No-Fault benefits from the insurance of the car you were riding in.
When you call our office after a MN car accident, a car accident lawyer will explain your right to you in more detail. If you were a passenger in a one car accident and the driver of the car you were in was at fault because of driving drunk, speeding, not paying attention, or any other reason, you have a claim against the driver's insurance for their negligence.
CAR ACCIDENT INSURANCE COMPENSATION
For example, you may be entitled to additional medical compensation and additional wage loss. In addition, there is compensation for pain and suffering for what you have gone through and how you may be effected in the future. Our car accident lawyers frequently represent the injured passenger who was in a car with someone who had too much to drink.  We have also represented passengers in a vehicle with an inexperienced teenage driver, and many other situations.
If you have been injured in a single vehicle auto accident in Minnesota, please call us and speak with a top lawyer for a free consultation. Pam Rochlin is a former partner at Meshbesher & Spence. She has over 25 years' experience representing hundreds of car accident injury victims. She was the 2015 president of Minnesota Women Lawyers, an organization with over 1300 members.
A top car accident attorney will meet with you at our offices in Woodbury, Minneapolis, St. Louis Park, or Edina. We will discuss your injury case and explain your rights to you.  An experienced auto accident lawyer can also come to your house for a free consultation in St. Paul, Minneapolis MN, Forest Lake, Chanhassen, Chaska, Lino Lakes, Mankato, Maple Grove, Brooklyn Center, Brooklyn Park, Golden Valley, Anoka, Champlin, and other cities throughout Minnesota.