CHILD KILLED IN MOORHEAD CAR ACCIDENT – MN LAWYERS
An online news service reported recently that a young child died from injuries suffered in a four-vehicle crash in Moorhead Minnesota.  Authorities are seeking to identify additional witnesses who can describe what they saw. Moorhead Police Capt. Tory Jacobson said speed was "definitely a contributing factor" in the crash.  A pickup rear-ended another vehicle, however the investigation will look at secondary factors, including possible distractions. Jacobson said authorities seized the cellphone of the male driver of the pickup, but do not know yet whether cellphone use was a factor in causing the accident.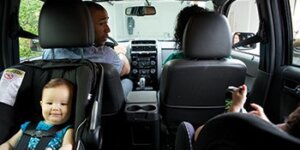 The fatal crash happened at the intersection of 34th St. and Highway 10 in Moorhead MN, just after noon on Saturday, Jan. 6. The full-size Ford F-150 pickup rear-ended a vehicle with two adults and the child inside. Both vehicles were in the left-turn lane for 34th Street on eastbound Highway 10 and continued east, striking two more cars. Jacobson said the 2-year-old boy suffered life-threatening injuries and was taken by FM Ambulance to Sanford Medical Center. Unfortunately, the child later died from his auto accident injuries. Names are being withheld pending notification of family members. The driver and lone occupant of the pickup was not injured.
Moorhead Police requested the Minnesota State Patrol conduct an accident reconstruction investigation. The pickup driver has cooperated with police and did not show signs of physical impairment through field sobriety testing, Jacobson said. The man is not in custody at this time. Criminal charges are expected to be requested through the Clay County Attorney's Office once the investigation of this fatal car accident is finished, he said.
LAWYERS FOR MOORHEAD MN CAR ACCIDENT
At the Rochlin Law Firm, our best car accident lawyers have represented many families in MN going through the loss of a child.  These tragic car accidents are more frequent on rural two lane highways.  Our attorneys have represented people in Moorhead, Thief River Falls, East Grand Forks, and many other parts of Minnesota.  Pam Rochlin is a top auto accident attorney with more than 25 years' experience, only representing injured people and their families (never the insurance company) throughout Minnesota.  She is originally from Thief River Falls, and went to college at Moorhead State before law school at the University of Minnesota. Pam is a former partner at Meshbesher and Spence and was the 2015 president of Minnesota Women Lawyers.
If you have been injured or a family member was killed in a car accident in Moorhead or northern Minnesota, please call us for a free consultation.  An auto accident lawyer will explain the insurance issues and make sure your rights are protected so that you get the insurance compensation you are supposed to get. We meet clients in Moorhead for serious car accident cases and throughout MN.