PLASTIC SURGERY AFTER DOG BITE – MN LAWYERS
Our dog bite lawyers have represented many people bitten by a dog in Minnesota. According to the American Pet Products Association, there are 83.3 million dogs in the United States, in 56.7 million households. Dogs account for nearly 90 percent of all animal bites. There are 4.5 million dog bite cases each year. More than 27,000 victims require reconstructive surgery of the bite wounds. However, the U.S. Centers for Disease Control and Prevention maintains the annual dog bite estimate is too low.
Most of the cases our dog bite lawyers handle in Minnesota involve the victim needing some kind of surgery for the wound. In many cases it is just stiches. However we also see many cases where reconstructive surgery is needed to improve a permanent scar. 
Many victims of a dog bite or dog attack in MN do not seek medical treatment or report the incident of the dog attack to the authorities. Three very important issues need to be addressed with a dog bite wound: 1) Skin damage. 2) Injuries to underlying tissues, such as muscles and bones. 3) Infections from bacterial diseases. Of course, there are medical bills to be considered with treatment for a dog bite.  Our top rated MN dog bite lawyers work to make sure the medical bills are paid by the dog owner's homeowners insurance. 
DOG BITE TO FACE SCAR SURGERY
Potential infection of the wound is of great importance to consider. A dog bite injects bacteria deep into tissue, muscles and nerves. While not as common, bacteria involved in such infections include Streptococcus, Staphylococcus, Pasteurella, Tetanus and rabies.  Rabies is a deadly infection transmitted by a dog bite. Cleaning the wound decreases the risk of infection by killing bacteria that may thrive and infect the wounds. Tissues and skin reconstruction increase the risk of infection, and the decision to suture the wound balances the risk of infections against the appearance of scars from the bite wound.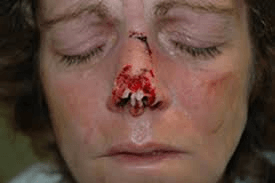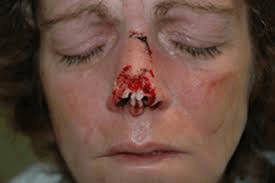 Many dog bite cases our lawyers work on involve a person being bitten in the face and left with a permanent scar. Our lawyers recommend seeking evaluation with a plastic surgeon at the emergency room if possible immediately after the dog bite, before anything else is done. An experienced plastic surgeon will get you or your child on the right path after a dog bite to minimize the future scarring. In addition, our clients will frequently consult with a plastic surgeon after a dog bite to see if the scar can be improved. The cost of the plastic surgery can be high, but our lawyers make sure the dog owner's insurance pays for medical bills and more.
DOG OWNER RESPONSIBLE TO PAY FOR PLASTIC SURGERY MN ATTORNEYS
If you or your child has been bitten by a dog in MN and may have permanent scarring, please call us and speak with a lawyer for a free consultation. Our dog bite attorneys have more than 25 years' experience successfully representing people in dog bite cases throughout Minnesota. We hold the dog owner and their insurance company fully responsible to pay for medical bills, lost wages, future needs and more.
You can meet with an attorney about your dog bite or dog attack case at our offices in Minneapolis, Woodbury, Edina, and St. Louis Park.  Our attorneys also make house calls to meet with clients about their dog bite case in St. Paul, Forest Lake, and Brooklyn Park. Also, Bloomington, Maple Grove, Plymouth, and other cities throughout Minnesota.