INFECTION FROM DOG BITE – LAWYERS MN SERIOUS INJURY
A recent story in the Washington Post reported that a man was in a medically induced coma for 11 days after being bitten by a dog. His wife took him to the hospital and dropped him off at the emergency room. After parking the car and expecting to join her husband in the waiting room, she was met by a nurse with an urgent message: The 50-year man had suddenly become unresponsive. They had been to the same emergency room the previous night because David had a fever and needed to be assessed; however, after five hours and still unable to see a doctor, they left, with the goal of returning in the morning.
According to Becky, that was their first bad decision: a decision that left David battling a catastrophic illness that kills between 60 and 80 percent of its victims. David's life was saved by the doctors, but several of his toes had to be partially amputated, and he now suffers with profound permanent hearing loss. At the Rochlin Law Firm, our top MN dog bite lawyers have represented many people bitten by a dog in Minnesota. Most of our dog attack bite cases involve compensation for a scar or reconstructive surgery, but there is also the possibility of serious injury from infection after being bitten by a dog.
TREATMENT FOR DOG BITE 
David was a marathoner, and three days before being hospitalized he had gone for a run after work and taken one of the family dogs. As he was returning home, one of his neighbor's dogs attacked his dog. While trying to separate the animals, the neighbor's schnauzer bit David on his thigh. David cleaned the dog bite wound and applied anti-bacterial cream. The following day he sought his first treatment at an urgent care center where he was administered a tetanus shot for the dog bite. While the doctor offered to prescribe antibiotics as a precautionary measure, he also mentioned that only five percent of bites become infected.
As it turns out, this information was incorrect because the figure for dog bite infection is closer to 20 percent. David knew about the overuse of antibiotics, and decided not to take them.  The next day his temperature was 102.9, and the area around the bite was warm and swollen, so the nurse practitioner advised the couple to go to the University Hospital E.R.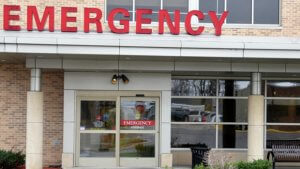 A triage nurse saw David. He said he needed treatment for a high fever, and that he'd had a flu shot (not a tetanus shot) two days earlier. He failed to mention anything about the dog bite. For the next three hours they waited to see a doctor, but because the E.R. was so busy Becky did not approach the registration desk or ask any questions. All the while, David's vital signs were being taken regularly so they assumed there was no urgency.
HOW TO KNOW IF DOG BITE IS INFECTED
Just before midnight Becky spoke to the paramedic who was monitoring David and advised that they planned to go home and return in the morning. She said the paramedic told her, "I wouldn't leave if my girlfriend had blood pressure like this," but she didn't know what David's normal blood pressure was or what the paramedic actually meant. Becky remembers telling him, "But you guys aren't doing anything," and exhausted, the couple left.
The following morning the couple drove back to the hospital. David seemed worse, but he was able to get into the car. At the hospital he was loaded into a wheelchair by Becky and an E.R. aide. When Becky rushed back into the hospital, David was lying on a gurney with his eyes closed: he was clearly out of it – his fingernails blue, a sign of shock. She also told hospital staff that David had no spleen, which meant he was especially vulnerable to infection [such as from a dog bite like this case].
LIFE THREATENING INFECTION FROM DOG BITE
Doctors began frantically trying to save David's life which was at risk because of infection from the dog bite. His breathing was labored, his kidneys were failing, and he had developed disseminated intravascular coagulation. A head scan showed that he probably had meningitis, which had invaded his bloodstream and caused septic shock.
The specialist who eventually identified the cause of David's illness, was called in on the sixth of David's 51-day hospitalization. He said the ICU team mentioned the dog bite, but said the wound didn't look bad and they were not focusing on that. But Dr. Forster was concerned, because dog bite wounds don't necessarily show signs of infection, when all the while the bacteria infested dog saliva can wreak havoc inside the body. Tests on David's blood cells confirmed his suspicion. However, the specialist noted that "the temporal association with the dog bite was too close to ignore." Fortunately, the treatment for both infections are similar, said Forster.
TREATMENT FOR DOG BITE INFECTION
Because of the infection from the dog bite, David was in a medically induced coma for 11 days and faced many months of recovery, punctuated by setbacks. Due to a persistent infection he lost part of three toes and required a cochlear implant to mitigate the deafness caused by his illness. According to Forster, the antibiotics declined by David following the dog bite could well have prevented sepsis. He also believes that David's case highlights the need of having front-line providers being aware of rare infections.
While Becky and David Krall are deeply grateful to the doctors who saved David's life, they hope their story reinforces the importance of improving communication in emergency departments. And Becky is still upset that David's illness after being bitten by a dog was not addressed during his first E.R. visit, and that she was not made aware just how sick her husband was. She certainly wasn't aware that when patients are in the throes of sepsis, are confused, or are delirious, that they can provide incorrect information to hospital staff.
Last year David and Becky met with hospital officials to discuss ways to improve communication.  The hospital administrator said they've looked at David's case in detail, and, as a result, a physician is now part of the triage team during the busy afternoon and evening shifts. In addition, a tracking board displays patients' vital signs.
DOG BITE LAWYERS MN
If you have been bitten by a dog and acquire an infection because of the dog bite in MN, please call our office and speak with an attorney for a free consultation.  Our best lawyers have more than 25 years' experience and have successfully represented hundreds of people with dog bite and other injury cases. A dog bite attorney can meet with you at our office in Edina, Minneapolis or Woodbury.  Our top rated dog bite lawyers also make house calls to St. Paul, Maplewood, Eagan, South St. Paul, New Hope, Golden Valley, Plymouth, Maple Grove, Champlin, Anoka, and other cities throughout MN.