INJURED AT HOSPITAL COMPENSATION ATTORNEYS
Every year, millions of people go to the hospital for emergency treatment as well as scheduled surgery and other procedures. Most hospitals are staffed with highly skilled, trained doctors, nurses and other staff, whose work involves saving lives and treating serious injury and illness. However, the doctor, nurse, orderly, and other staff are human and subject to human error just like anyone else.  Unfortunately, when there is a mistake at a hospital, the consequence can injure the patient. In fact, patients are injured in hospitals and clinics every day.
Our personal injury lawyers have represented people injured because of medical malpractice at the hospital for the past 25 years.  For example, we have had clients who had the wrong body part operated on or were prescribed the wrong medication. Additionally, our attorneys have had cases where our client was burned by a defective machine or because of the negligence of the operator at the hospital or clinic.
Similarly, we have had cases where a patient fell in their hospital room or the examination room. We have even had clients who slipped and fell in the hospital parking lot. A hospital, doctor's office or clinic, is still a business and responsible for injuries they cause to patient's and others on their property.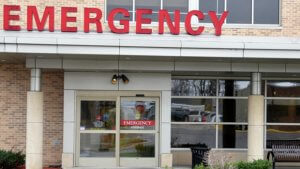 PERSONAL INJURY LAWYER FOR INJURY AT HOSPITAL OR MEDICAL CLINIC MN
If you have been injured at the hospital or a medical clinic, call us and speak with a lawyer for a free consultation. A top attorney will discuss your situation with you to help you determine if you have a case against the hospital or clinic.  The hospital or doctor's clinic will have liability insurance to cover your accident injury.
Our attorneys will make sure your rights are protected and that you get the compensation you are entitled to. Compensation may include the cost of additional medical bills, lost income from work, pain and suffering, and more.  Pam Rochlin and David Rochlin have over 25 years' experience getting compensation for people injured at a medical clinic or hospital in Minnesota.