INJURY FALL ON BUSINESS PROPERTY – MN LAWYERS
If you trip and fall in a store or business, or are injured because something fell on you in the store, or you slip and fall on something on the floor of a store, or you are injured for some other reason at the store, you may be entitled to compensation from the store or business, or the property owner.  Your legal right to compensation for being injured at a store mostly depends on whether you can prove that the store or business was at fault in causing your accident injury.
SLIP AND FALL INJURY AT A STORE OR BUSINESS – MN ATTORNEY
For example, our top lawyers have had cases at Minnesota fast food restaurants where a store employee spilled grease on the floor where customers walk, but the store employee did not clean it up properly – and our client slipped and fell, and was injured. In those cases, the store is clearly at fault and we are generally successful for the clients. Similarly, we have had many cases where the floor was just mopped, and no warning sign was put out.  However, there have been other situations where a person slips on something but can't identify what it was or how it got there, or how long it was there and not cleaned up, and in those cases the attorney generally cannot get compensation for the injured person. Therefore, if you slip and fall in a store or business, it is important to find out what caused you to slip and take pictures if possible. You should report the incident to the store or business so they can document it happened, and they may also give you information of what the problem was and how it got there. Getting the names and contact information for any witnesses can also be very helpful.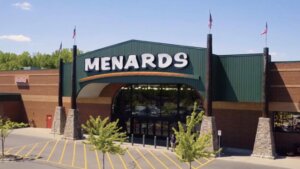 TRIP AND FALL INJURY AT A STORE OR BUSINESS IN MINNESOTA
Our lawyers have also handled cases where our client tripped and fell or walked into something in the store and was injured. The difficulty in these cases is proving that the accident occurred because of the store's fault rather than the person not looking where he was going. The same is true when someone trips and falls on something in the store. Again, photographs are important. When you talk to a trip and fall lawyer in our office, we generally focus on two issues: Was the object that the person walked into or tripped on something that was hidden or hard to see, and how distracting is the store in general. When our client tripped on an empty pallet at a drugstore in Minnesota, our attorney recovered a settlement for him because the pallet was only about 1 foot high and he was distracted by a store employee pointing him in the direction of some products. In another case, our client tripped and fell after she walked into a pallet at a grocery store, our lawyers recovered compensation for her because the pallet was left at the corner-end of an isle and she couldn't see it as she was turning the corner of the isle she had been walking down. However, when a client walked into a display at a sporting goods store, we were unsuccessful because the jury felt that he should have seen and avoided it even though they also agreed that the store shouldn't have put the display there. Again, the most important thing is to get photographs and hopefully the names and numbers of witnesses so that we can fully investigate and prove the claim for you.
SOMETHING FELL OFF A SHELF INJURY IN A STORE OR BUSINESS
It is surprising how many people have called our lawyers because they were injured by a product or something falling from a shelf in a store and hitting and injuring them. The store's defense in those cases is usually that another customer must have just rearranged the product on the shelf or that the injured person was reaching for something herself when she should have called for help. These cases can often depend on how believable the injured person is, so the cases are much better if we have witnesses and photographs. Even if you don't initially think you are hurt, you should try to get the names and numbers of any witnesses just in case you need them later. Our attorneys have had many cases in MN where our client did not initially think he or she was injured and walked out of the store just fine, only to end up in the emergency room a few hours later.
If you are injured at a store or business in MN, please call our office and speak with a lawyer as soon as possible for a free consultation so that we can investigate your case for you and advise you of your rights. At a minimum, you may be entitled to medical payment coverage, and if there is evidence that the store was primarily responsible, we can help you get complete and fair compensation for your injury. Pam Rochlin is a woman personal injury lawyer with more than 25 years' experience successfully handling hundreds of cases. You can meet with one of our injury attorneys at our offices in Minneapolis, Edina, St. Louis Park and Woodbury. A lawyer from our office can also come to your home in Eden Prairie, Chaska, Chanhassen, Prior Lake MN, Lakeville, Burnsville, Rogers, Elk River, Plymouth, Maple Grove, St. Paul, Roseville, and other cities throughout MN. We will always provide you with a free initial consultation and we never charge anything unless you receive compensation for your injuries.