ROAD HIGHWAY CONSTRUCTION WORKER HIT BY CAR CAN SUE DRIVER
The Minnesota State Patrol says alcohol was involved in a crash involving road workers on Wednesday on Southbound Highway 169 on Mitchell Bridge in Hibbing.  The crash happened around 9:34 a.m. Wednesday.
According to the State Patrol, a vehicle traveling south hit a MnDOT street sweeper that was working in the left lane of the bridge. The driver initially struck a plow truck, which was part of the warning crew, before hitting the street sweeper near the road workers. It was just lucky that the driver of the car did not hit a road worker standing or working on the road.  Our car accident injury lawyers have represented road crew workers injured on the job, and we know the injuries can be very serious. A road worker standing or working in a construction zone is vulnerable to cars driving too fast, distracted, or not paying attention.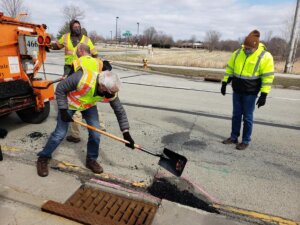 The driver of the car in this case has life-threatening injuries, and is hospitalized in Duluth. According to the State Patrol, alcohol was involved. The same driver had previously been convicted of criminal vehicular homicide in another incident and served time in prison. According to court records, he has several DWI convictions on his record.
Although this case involved drunk driving, there are many injury accidents caused because the driver in a car in a road or highway construction zone just failed to slow down and pay attention. The injuries to the road construction worker can be very serious. In one case, our MN road construction accident attorneys represented a worker who had almost every bone in his body broken – top to bottom.
CAR HIT HIGHWAY ROAD WORKER DRIVER RESPONSIBLE
The 54 year old driver of the street sweeper has injuries that are not life-threatening, according to the patrol. The driver of the plow truck was not hurt. There is of course workers compensation available for a highway construction worker who is hit by a car. However, workers compensation in Minnesota does not fully compensate for the injury and our best lawyers will definitely bring a claim against the insurance for driver who hit the worker or we will sue the driver who caused the accident.
One man visiting his sister in Kitzeville said the Mitchell Bridge in this case has always been dangerous. "I think they should lower the speed limit and put double yellow lines on it. There are accidents here all the time." As for using caution around MnDOT vehicles, he said, "People should slow down and move over. Distracted driving is also a problem in a construction zone because traffic slows down and people get bored – not thinking about the workers on the side of the road.
ROAD WORKER INJURY COMPENSATION ATTORNEYS MN
If you or a loved one have been hit by a car while working highway or road construction in Minnesota, please call us and speak with a top attorney for a free consultation. Pam Rochlin has been recognized as a Minnesota Super Lawyer for many years.  She is a former partner at Meshbesher and Spence, offering personal service to our clients.  Pam was also the president of MN Women Lawyers in 2015, an organization with more than 1300 members.
We have offices in Edina, Minneapolis, and Woodbury where you can meet an attorney to discuss your highway construction accident injury case. Our lawyers also meet injured people at their homes in St. Paul, Anoka, Maplewood, Forest Lake, Lakeville, Burnsville, Richfield, Bloomington, and other cities throughout Minnesota.  The consultation is free and we never charge anything unless you receive compensation.