GOING OUT OF TOWN FOR SPRING BREAK?
ARE YOU COVERED WHEN YOU RENT A CAR?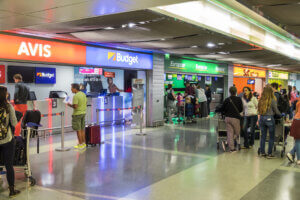 In general, if you own a car with insurance in Minnesota, your auto insurance will cover you if you damage a rental car. This insurance coverage will apply even if you rent a vehicle in another state. If you cause an accident with another vehicle or injure someone, your auto insurance will cover you for that as well. However, you should always read your auto insurance policy and ask your insurance agent to verify your coverage. Our car accident attorneys get many calls each year from people in an accident with a rental car who have questions about insurance coverage.  Here are some of the basic answers:
YOUR AUTO INSURANCE COVERS A RENTAL CAR
 The rental car company cannot require the renter to buy additional insurance. However, the rental car agency is not responsible for your crash. So if you cause a serious accident and other people are injured, you will be personally responsible to pay compensation for their injuries beyond your liability coverage if you don't have enough of your own auto insurance.
WHAT IF YOU ARE INJURED IN A RENTAL CAR?
The rental car company's insurance will not cover liability to other cars and drivers, so if you do not have your own insurance and you damage the rented car, you have to pay for that damage. Therefore, if you are renting a car and you do not own a car with insurance, you should discuss purchasing insurance from the rental car company.
It gets a bit more complicated if YOU are injured in a car accident while you are driving a rental car, particularly if the other driver is at fault and is uninsured or underinsured.
The bottom line is that if you own a car or truck in Minnesota and you have insurance on it, you should be covered for a rented vehicle to the same extent as your personal coverage. However, if you do not have your own auto insurance, you should consider buying separate coverage if you rent a car.
If you are ever in an accident while driving a rental car or a passenger in a rental car in MN, please call our office and an attorney will explain your rights to you.  We will provide you with a free consultation, answer your questions and advise you on how to proceed. The primary focus of our lawyers when dealing with rental car cases or other accidents is to get injured people full compensation for their injuries.