BICYCLE HIT BY CAR IN WINONA MN LAWYER
A Winona boy has died after being hit by a car Tuesday afternoon while riding a bike. According to Winona Police, the boy had crossed Highway 61 and gone up the embankment onto the 650 block of East Lake Boulevard. He was hit by a 17-year-old girl driving westbound.
Immediately after the bicycle accident, the boy was rushed to Winona Health and then to Gundersen Health System in La Crosse. He reportedly died early Wednesday. Winona Police are currently withholding the name of the teenage car driver pending further investigation. According to Winona police, Minnesota State Patrol assisted in reconstructing and investigating the accident. They do not believe that alcohol or speed was a factor in the collision.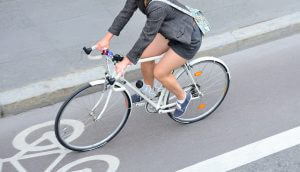 When a bike rider is on the road with cars, there is always danger of an accident. The driver of the vehicle may be on a cellphone, texting, distracted, or just not paying attention. Our best MN lawyers have represented many bicycle riders, pedestrians, and others hit by a car in Minnesota. When a bicycle is hit by a car, the rider can be seriously injured, including broken bones or a head injury.
Fortunately, there are a number of different insurance benefits that may be available to the rider of a bike hit by a car. This includes No-Fault compensation for medical bills and wage loss, liability insurance for additional compensation, and underinsured or uninsured motorist coverage in some cases.  When you call our office and speak with a lawyer about your Minnesota bike accident with a car, we will explain your rights and make sure you are protected.
EXPERIENCED BIKE ACCIDENT ATTOREY
Pam Rochlin and David Rochlin are top rated MN personal injury lawyers with more than 25 years' experience.  We represent the bicycle rider hit by a car, and other accidents cases throughout Minnesota. Pam is a former partner at Meshbesher and Spence and is regularly voted a MN super lawyer.
Our lawyers will meet with you to discuss your bike accident at our offices in Edina, Woodbury, St. Louis Park or Minneapolis.  An attorney from our office will also come to your home or the hospital in Winona or anywhere in Minnesota to meet with you or a family member after a serious bike accident injury from being hit by a car. The consultation with our attorneys is free and we never charge anything unless you receive compensation.