JUNK IN ROAD CAUSES INJURY ACCIDENT – MN LAWYER
The Star Tribune recently reported that a pickup truck driver lost his load on a Scott County highway. This caused a two-vehicle crash close behind that left a motorcyclist dead. According to the State Patrol: The truck driver was heading west about 9:50 p.m. on Hwy. 19 near Raven Street and "lost a load" he was hauling. "The truck was hauling a lawn chair [and a] roll of carpet, which were lost in the lane."  Of course, the driver was cited for having an unsecured load that endangered life or property. However, there will be no justice in this tragic case. 
Our car accident attorneys have represented many people injured in Minnesota because they ran into debris or other junk in the road. Sometimes the accident occurs when stuff is not secured and falls off of a truck or out of the trunk of a car. Our client may be driving behind and runs into it whatever fell out. However, other times, a driver runs into junk on a MN road (tires, furniture, garbage, etc.) that has been there for some time.
Even if the MN auto accident attorney can't find the person responsible for leaving or dumping the stuff in the road, we can still access our client's uninsured motorist compensation to get compensation for the injury.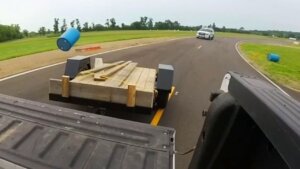 "Unsecured loads can have deadly consequences," the patrol said in a statement issued Wednesday. With a few exceptions, state law requires motorists to secure any load to prevent items from "dropping, sifting, leaking, blowing or otherwise escaping."
INSURANCE COMPENSATION INJURED IN CAR ACCIDENT
In this case, a car behind the pickup braked and swerved to the right to avoid the unsecured material that fell out of the truck. The motorcycle was behind the car and also veered to the right, sideswiping the car. The rider was thrown from his motorcycle into the eastbound side of the highway. The patrol said the rider was not wearing a helmet.
If you are injured in an accident because you ran into debris or something in the road or on the highway, call us to speak with a car accident lawyer for a free consultation.  Our lawyers have more than 25 years' experience. We represent people injured in an auto accident in Minneapolis, St. Paul, Richfield, Bloomington, Anoka, St. Cloud, Chaska, Chanhassen, and other cities throughout Minnesota. You can meet a top car accident attorney at our offices in Edina, Minneapolis, or Woodbury, or we will come to meet you anywhere in Minnesota. The initial consultation is free, and we never charge anything unless you receive compensation for your injury.