CAR RAN RED LIGHT INTERSECTION CAMERA INJURY LAWYER
Our top Minnesota auto accident lawyers represent many people injured because the other car ran the red light at an intersection. We recently came across an article on the https://mnsafedriving.com website that discusses one tactic to reduce red light running: Add more intersection cameras and make sure people know the cameras are there.
Of course, from the perspective of a car accident attorney, this makes it easier to prove who ran the intersection stop light. An intersection camera makes it harder for the other driver to lie about whether they ran the red light. But the presence of an intersection camera also reduces crashes.  Here is the article from the website.
Intersection Safety Cameras Reduce Crashes and Save Lives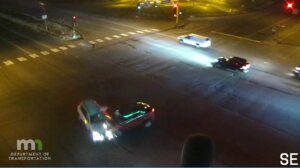 Red light running led to 676 fatalities and an estimated 113,000 injuries nationally in 2009. (Insurance Institute for Highway Safety.) In Minnesota in 2011, 23 people were killed and 7668 were injured at controlled device intersections. Intersection crashes account for more than 45 percent of all reported crashes and 21 percent of fatalities.
However, a study in one city found that the number of people running red lights at the city's first two intersections with cameras dropped from 1,684 to 477 in one year. That is a 71 percent decrease. (Ohio Post Dispatch, September 25, 2006)
Traffic crashes are the single most significant cause of preventable death and injury.
Nearly two-thirds of those killed in intersection crashes are not in the red light-running vehicle. In most cases, they are the innocent person who thought they were safe proceeding on the green light. This may be someone riding a bicycle or crossing the road in the cross walk. It has been said that when cameras are used, the yellow light duration is shortened to encourage more tickets. Minnesota Department of Transportation controls the light durations, and will not change nor shortened yellow light times. Minnesota law follows the permissive yellow light guideline. A violation occurs if a driver enters the intersection after onset of a red light and that is when a ticket should be given.
Remember, no one is violating your privacy if you do not violate the law. This is a safety issue and not a financial issue.  MSD supports the Red Light Camera legislation not because it wants more cameras watching everything that we do. It's because people are being killed and severely injured due to many drivers who are in a big hurry and violate the law by rushing through intersections even against the red light.
CONSEQUENCE OF CAR THAT RAN RED LIGHT
MSD has this saying on its website: "Don't let the two minutes you save on the road be the last two minutes of someone's life." This is so fitting for this issue. Is running a red light worth your life or my loved one's just to get to your destination a few minutes faster?
People obey the law for two main reasons, either because it is the right thing to do, or they believe they will be caught if they don't. Cameras will make a big difference for the latter. Preventing the crash is so much more important than the ticket after the fact. Knowing the camera or a police officer is at the intersection will curb many violations and SAVE LIVES.
CAR ACCIDENT ATTORNEYS
Pam Rochlin and David Rochlin are among the best MN Car Accident Attorneys. If you have been injured in a car crash because the other driver ran a red light, or your family member has been killed, please call us for a free consultation. Our injury lawyers will make sure your rights are protected and that you receive the compensation you are entitled to.
We have offices where you can meet a car accident lawyer in Minneapolis, Edina, Woodbury, and St. Louis Park.  An auto accident attorney will also meet you and your family at your home in St. Paul, Roseville, Forest Lake, Brooklyn Center, Burnsville, Apple Valley, and other cities throughout Minnesota.