MN Car Accident Injury Lawyer Uber Car
Our top car accident lawyers have represented many people injured in crashes throughout Minnesota. Over the last several years, our attorneys have a number of Uber car accident cases. Usually the car accident attorney will represent a passenger injured because another vehicle hit the Uber car. However, we have also had cases because the Uber driver car caused the crash.  Many people also worry about other personal safety issues in an Uber Car.  A car accident lawyer recently found this article from on the internet from Reuters:
(Reuters) – Uber Technologies Inc. will connect U.S. riders directly to emergency number 911 from this summer, the latest in a package of measures designed to improve the global ride hailing company's popular image.
The company said its app will have a dedicated "safety center" feature that will include information on driver screening processes, insurance protections and community guidelines. Riders will also be able to designate up to five friends and family members as trusted contacts and share trip details with them during every ride, Chief Executive Officer Dara Khosrowshahi wrote in a blog post on Thursday. 
Uber is currently facing a class action suit in the United States for poor driver vetting that has led to a series of sexual harassment incidents, including rape. The string of safety measures is an attempt by CEO Dara Khosrowshahi, who took the top job in August last year, to refurbish Uber's image and put several scandals behind the company following eight years of former CEO Travis Kalanick's pugnacious leadership.
INJURED IN UBER ACCIDENT INSURANCE COMPENSATION
Our best MN auto accident lawyers have only represented clients who have been injured in actual vehicle crashes. However, we are glad to see that Uber is taking these precautions to prevent other incidents for their passengers.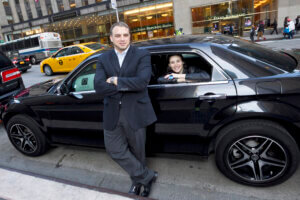 If you have been injured in a car crash in MN while riding with Uber, call us and speak with a lawyer for a free consultation.  Pam Rochlin and David Rochlin are personal injury attorneys with more than 25 years' experience representing people injured in a car accident.  You can meet with an attorney about your accident in an Uber car case at our offices in Minneapolis, Edina, St. Louis Park and Woodbury.  A car accident lawyer can also meet you at your home in St. Paul, Roseville, Richfield, Forest Lake, Maple Grove, and other cities throughout Minnesota.