CAR ACCIDENT LAWYER FOR ROAD SPINOUT CRASH
After getting our first taste of snow back in October, real winter weather impacted roads and travel conditions on Monday. According to the Minnesota Department of Transportation, most roads across the state were covered or partially covered with snow by 10:30 a.m.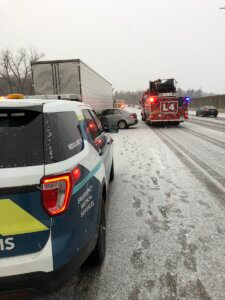 In addition, KARE 11 reports crews began treating ramps, overpasses, and bridges around 3:30 a.m. However, it is a big job and takes time to complete. Unfortunately, salting roads doesn't prevent all slick spots. Therefore, it's important for motorists to drive slowly and stay patient. Also, create space between other drivers and plows.
KARE 11 reported dozens of minor crashes and spinoffs throughout the Twin Cities. According to the Minnesota State Patrol, between 6 a.m. and 9 p.m. on Monday, there were 566 crashes around the state. Of those crashes, 46 resulted in injuries, one of the injuries being fatal.
Earlier this morning, a crash on southbound Highway 169 south of Interstate 494 created some serious traffic delays. According to Bloomington Fire, a vehicle crashed into the side of a semi-truck. The driver of the car was hospitalized. Also, on Interstate 694 near Columbia Heights and Fridley, traffic was slowed to a crawl Monday morning in both directions. Two crashes were reported in the area near Highway 65.
CAR ACCIDENT LAWYERS
Our car accident lawyers have represented thousands of people throughout Minnesota. Drivers sometimes use slippery roads as an excuse. However, that excuse is usually not legitimate. If you are driving on a snowy day, you need to slow down and drive carefully. In most cases, the crash can be avoided.  Unfortunately, the insurance issues are complicated. We can sort through it for you.
It is important to hire lawyers who are experienced and have a reputation for getting results. Our top attorneys have more than 25 years' experience fighting for our clients to make sure they are fully compensated. Call us for a free initial consultation. We will answer your questions and make sure you are treated fairly by the insurance companies. In addition, we never charge anything unless you receive compensation. We have offices to meet you throughout the Twin Cities. However, we also make house calls throughout Minnesota.