SUDDEN LANE CHANGE HIT AND FLIPPED CAR 
This crash occurred at about 2:15 p.m. on July 15, 2022. Our client's husband had picked her up at work and they were driving home. They were driving westbound on Bass Lake Road in Crystal, Minnesota. They were in the right lane and had just passed Broadway. A Walgreens store was on their right. They were in hurry.  In fact, they were just enjoying their time together at the end of the day.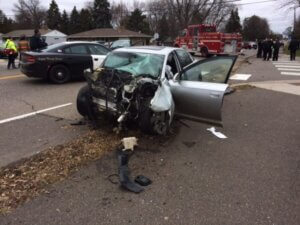 The other driver was also driving westbound on Bass Lake Road, but in the left lane. As they approached the driveway leading into the Walgreens parking lot, the other driver suddenly veered into our client's lane in front of them. Apparently, the other driver was trying to get into the Walgreens parking lot. The other car impacted our client's vehicle, causing their car to flip.
CAR ACCIDENT LAWYERS MN
Fortunately, there were no serious injuries from this crash. However, our client's elbow was cut by the broken windows, and she has some neck pain. They needed an experienced car accident lawyer to help sort through the insurance issues.  Of course, one issue is the car damage. Usually, that is not too hard if everyone agrees how the accident happened. However, sometimes there is still a dispute as to the value of the car that was totaled. More importantly, our car accident lawyer helped them with the medical bills and wage loss issues.
In cases where there is a dispute about fault, our car accident lawyers will work with law enforcement and our own investigators to prove the case. For example, there may be intersection video. Also, in many cases, the cars will have data event recorders that provide crucial information. In serious crash cases, there can be an expert reconstruction of the accident that settled the dispute.
If you have been injured in a car accident, call us for a free consultation. Our best Minnesota car accident lawyers will answer your questions and protect your rights. We have over 25 years' experience getting results for injury victims.