HIT BY GARBAGE TRUCK MN LAWYERS
A teenager from Red Wing, Minn., who graduated from high school just two weeks ago, was killed Thursday in a head-on crash involving a garbage truck in Goodhue County.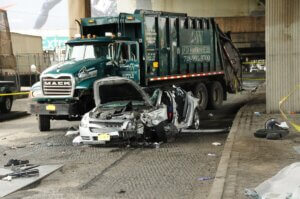 The driver of the car, was pronounced dead at the scene of the crash, 2 miles southeast of Red Wing, the Goodhue County Sheriff's Office said. She was heading west when her vehicle collided with an eastbound Waste Management garbage truck., the sheriff's office said. The driver of the garbage truck was treated for minor injuries at the scene.
The driver of the car had graduated with distinction June 4 from Red Wing High School, where she was a member of the National Honor Society, the Student Council, the school's swim team and its ultimate Frisbee club. In 2018, she participated on a relay team at the Minnesota State High School State swimming meet.
The Minnesota State Patrol most likely also came to this accident scene to further investigate the case of the crash. The State Patrol will conduct an accident reconstruction to determine if the garbage truck driver or the car was at fault. They will also examine the garbage truck to make sure it was fully functional and compliant with all regulations.
LAWYERS FOR GARBAGE TRUCK ACCIDENT MN
Our car accident lawyers handle cases throughout Minnesota.  If you are injured in an accident caused by a garbage truck, call us for a free consultation with an attorney.  Our lawyers have more than 25 years' experience successfully representing people to get them compensation for their injuries.
We will make sure your medical bills are paid, your lost wages are reimbursed, and you receive all other appropriate compensation. This includes pain and suffering and future needs. When you call us for a free consultation with a lawyer, we will explain the insurance issues and make sure your rights are protected.  We never charge anything unless you receive compensation for your injuries.