CAR CRASH ICY ROAD INJURY LAWYER MN
News outlets over the weekend reported three people died in car crashes on Minnesota's icy roads and highways Friday. In other words, winter made a harsh return, bringing with it several inches of snow in parts of the state. Winds gusting up to 50 miles per hour whipped snow around and caused whiteout conditions on many rural roads. Our car accident lawyers get many calls every winter regarding injuries in crashes where people lose control of their vehicle on on icy highway or road.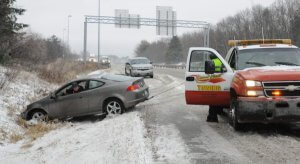 A 58-year-old St. Paul man was killed Friday night when his pickup truck spun out and rolled over in a ditch on Hwy. 169 in Princeton, Minnesota. Snow and ice were on the road at the time of the crash about 9:30 p.m., the State Patrol said. Unfortunately, the driver was killed; the State Patrol has not yet released his name.
West of Duluth, a 44-year-old man driving a semitrailer truck died when he crashed into the icy St. Louis River. The rig slid off Interstate 35 on an overpass near Scanlon at 4:40 a.m., the State Patrol said. Hours later, authorities recovered the driver's body from the river.
DRIVING TOO FAST ON ICY ROAD
Later that morning, a 26-year-old man from Pierz, Minn., died when he lost control of his car as he drove south on icy Hwy. 25 in Daggett Brook Township, in Crow Wing County. He was struck by a northbound semitrailer truck, the patrol said. He died at the scene just after 9 a.m. Fortunately, the truck driver was not hurt. Both were wearing seat belts.
In total, there were 217 crashes statewide Friday because of ice on the road and people not slowing down. This includes the two fatalities, and 25 others with injuries. There were 161 spinouts, according to the State Patrol.
A total of 10.6 inches of snow fell in Duluth, breaking the city's record for daily snowfall on Oct. 27. Almost 11 inches fell near Scanlon, 10.2 in Hermantown, 10 in Finland, 9 in Holyoke, 8.3 in Chisholm and 8 in Moose Lake. "It's unusual to have this much snow [this early]," said meteorologist Bryan Howell with the National Weather Service office in Duluth. Downtown Duluth had lighter amounts of snow, but "as you go up the hill, it gets worse and worse." Duluth typically sees about 1 inch of snow in October. Friday marked the second-highest one-day snowfall total for October in city history.
EXPERIENCED CAR ACCIDENT ATTORNEYS
If you are in a car accident because another car did not slow down or lost control on an icy road, call us for a free consultation with a top lawyer.  Our car accident attorneys have over 25 years' experience representing people injured in crashes throughout MN. We make sure people injured in a car accident get complete and fair compensation from the insurance company. An attorney will explain your rights, answer your questions, and make sure you are protected.
Driving too fast for road conditions on an icy road or highway is a frequent cause of auto accidents in MN, especially in the winter.  Our lawyers know how to help with medical bills, wage loss, and other compensation.
We have offices where you can meet a lawyer to discuss your car accident in Edina, Minneapolis, St. Louis Park, and Woodbury.  Additionally, an attorney will also come to your home or the hospital in Anoka, Rogers, Brooklyn Park, Golden Valley, or New Hope. Also Andover, Rogers, St. Paul, Albert Lea, and other cities throughout Minnesota. We never charge anything unless you are compensated for your injuries.