HIT HEAD ON BY DRUNK DRIVER – INJURED IN CAR ACCIDENT – MN ATTORNEYS
Drunk Driving Accident Are Too Frequent
If you have been hit head-on by a drunken driver, you are not alone. Drunk driving is one of the leading causes of car accidents in the United States, with 3 in every 10 Americans likely to be involved in an alcohol-related crash at some time in their lives. Every year, our auto accident lawyers represent people injured by a drunk driver car crash in Minnesota, including head on collisions. Car crashes and injuries caused by a drunk driver are infuriating to us because the level of irresponsibility is so much higher than the driver inattention we see in most MN auto accident cases. Our car accident injury attorneys have had many cases where a drunken driver hit and injured our client at an intersection or the drunk driver rear ended our client in a Minnesota accident. A head on collision with a drunk driver can cause the worst injuries for our clients, although, ironically, the drunk driver is often unharmed.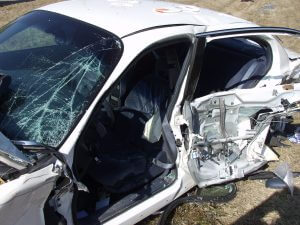 CAR ACCIDENT OTHER DRIVER WAS DRUNK
According to data from the National Highway Traffic Safety Administration (NHTSA), 10,800 people were killed in alcohol-related crashes in one year, some of those because the drunk driver hit the other car head on. Of those that survive a car accident caused by a drunk driver, many are injured. In that study, more than half a million people were injured in crashes where police reported that one driver had been drinking — an average of one person injured approximately every 2 minutes. These numbers are inexcusable because they could have easily been prevented if the drunk driver had simply chosen not to drive, or the bar that served him had cut him off as required by law and called a cab. The primary focus of our top MN lawyers in a car accident case caused by a drunk driver is to make sure our clients are fully compensated for the injuries including medical bills, lost wages, and pain and suffering.
Drunk Driving Laws in Minnesota
Minnesota law prohibits a person from driving while intoxicated (having a blood alcohol level of more than .08%). The MN Dram Shop Act also prohibits a liquor establishment from serving alcohol in certain circumstances. For example, a bar cannot sell alcohol without a license, serve alcohol to an underage person, nor to a person who is obviously intoxicated. Minnesota law also prohibits any person from serving alcohol to someone under 21 years of age (Social Host Liability). Our best auto accident lawyers have represented many people in MN who were hit by a drunk driver to sue the drunk driver and sometimes the bar as well.
Suing Drunk Driver and Bar That Overserved Them
The Rochlin Law Firm, Ltd. lawyers have successfully represented and fought for clients who have been hit head on by a drunk driver, and the persons or bar that wrongfully served them. When our client is injured in a drunk driver car accident, our attorneys strongly believe that the drunk driver, and if necessary the bar, should be held accountable. Our MN personal injury lawyers have considerable experience obtaining the necessary expert and investigative documentation to prove a case against the drunk driver and the irresponsible liquor establishment. If you have been injured because a MN drunk driver crossed the median and hit you head on, or otherwise caused your accident – or one of your loved ones has been killed in a drunk driving car crash – please call us and speak with a lawyer at our office for a free consultation. An attorney can meet with you to discuss your drunk driver car accident case at our offices in Minneapolis, Woodbury, and Edina. Our attorneys will also meet with you at your home if you have been hit by a drunk driver in St. Paul MN, Forest Lake, Lake Elmo, Brooklyn Park, Brooklyn Center, Anoka MN, Plymouth, Rogers, Chanhassen, Chaska, Burnsville, Richfield, and other cities throughout Minnesota.
For additional information on drunk driving statistics, drunk driving prevention and victim services, see Mothers Against Drunk Drivers, www.madd.org.