DON'T SIGN WAIVERS
At a recent meeting with other attorneys, I was surprised to find out many of them didn't know that liability waivers are enforced in Minnesota. They are! Waivers are often on the front page of forms that you sign and are usually in bold print. They can be used for activities, transportation, and the purchase of goods.
When you sign a form that includes a liability waiver or release, you often give up any claim for compensation if you are injured. For example, if you sign a waiver before getting on a bus.  If the bus gets in an accident, you will have waived your right to injury compensation for medical bills or anything else. The same with an activity waiver or any other waiver. This will make it much more difficult for an accident lawyer to help you get compensation for an accident injury.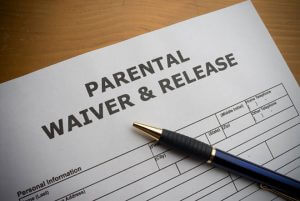 Most of the time the organization or business won't even object if you cross out the waiver before signing. But if you sign the form without crossing out the waiver, you are often signing away important rights that you might not understand. For example, many people sign a waiver at a health club (which is in most health club contracts). In those cases, you don't just waive any claim for injury on the equipment or an activity you choose to participate in.  The health club waiver also waives your rights if you slip and fall because the health club left a slippery floor without warning, or if your child is injured by a negligent worker in the health club daycare.
CROSS OUT THE WAIVER LANGUAGE
Another example is if you sign a waiver for your child going on a church field trip.  You may not realize you could also be waiving your rights against the hired bus company. If the bus gets into an accident and your child is injured, there may be no claim against the bus company. Our lawyers have seen many situations in Minnesota where people have been surprised after an accident to find that they waived their rights.  Even lawyers sometimes sign these without thinking. The important thing is to read documents before you sign them. It's very easy to cross out a sentence or two that contains a waiver or release of liability.
If you or your child are injured in an accident in MN, please call us and speak with an experienced lawyer even if you have signed a liability waiver. There are some situations where we have gotten around waivers or a liability release. Also, the law does change from time to time, so a particular waiver could later be deemed unenforceable. We will be happy to look at your potential claim and provide you with a free consultation. We are Minnesota personal injury lawyers. Our attorneys have more than 25 years' experience successfully handling hundreds of cases.