ACCIDENT BECAUSE DRIVER FELL ASLEEP AT THE WHEEL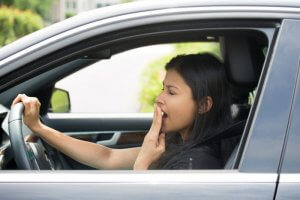 The online news source Medical News Today recently reported that 1 in 24 adults in the U.S. admitted to recently falling asleep while driving. You can assume this statistic about falling asleep while driving holds true for Minnesota drivers as well, and our lawyers handle several car accident cases caused this way every year. Falling asleep at the wheel contributes to car crashes and fatalities, according to a new report released by the Centers for Disease Control and Prevention (CDC). Health officials believe that the percentage of adults driving in a drowsy state could be even higher than the one reported because many people do not notice when they nod off for a few seconds while driving. Our lawyers have handled many head-on collisions because a driver fell asleep at the wheel.  Also cases where the driver drove off the road and injured his passenger.
To examine the incidence of falling asleep while driving, the CDC looked at data gathered from a questionnaire about insufficient sleep that was given by the Behavioral Risk Factor Surveillance System (BRFSS) during a two-year time-period. There were approximately 147,076 respondents in 19 states and the District of Columbia.
Sleep-related car crashes normally take place at night or mid-afternoon and most often involve one car going off of the road. Most notably, drowsy driving crashes are more likely to end in death or injury than non-drowsy driving crashes.
The Article Offered These Tips To Avoid Drowsy Driving:
Anyone driving should make sure they get at least 7 to 9 hours of sleep per night, abstain from alcohol before getting behind the wheel, and get treatment for sleep disorders. Methods typically used to stay awake while driving, such as opening the window, turning up the air conditioner, and turning up the radio, have been found to not be successful.
Warning signs of sleepiness include:
hitting a rumble strip
drifting from one's lane
missing exits
yawning or blinking
trouble remembering driving the last few miles
A previous study established that rates of drowsy driving increase around daylight savings time. Time change as well as earlier nightfall can become a dangerous combination for sleepy people that are behind the wheel. To read the whole article, go to http://www.medicalnewstoday.com/articles/254576.php.
If you are injured in a Minnesota auto accident because a driver fell asleep while driving, or was drunk, or just wasn't paying attention, please call us to speak with an attorney as soon as possible. An experienced car accident lawyer will give you a free consultation and explain your rights to you. We are Minnesota personal injury lawyers and our attorneys have more than 25 years' experience successfully handling hundreds of cases involving automobile injury accidents. We have had many cases where a driver fell asleep and crossed the center line hitting and injuring people in an oncoming car or injuring the passengers in his own vehicle.
We have big firm experience, but we are also able to provide small firm attention. You can meet with an auto accident lawyer at our offices in Minneapolis, Edina, Woodbury, and St. Louis Park to discuss your injury case. A car accident lawyer can also meet you at your home to discuss accident cases in Minneapolis and many surrounding cities including Chaska, Chanhassen, Apple Valley, Burnsville, Maple Grove, Brooklyn Center, St. Paul, and throughout Minnesota.