TRUCK DRIVER FELL ASLEEP AT WHEEL CAUSES CRASH INJURY
There have been a number of news articles recently about truck drivers driving when drowsy or tired.  A tragic example is the recent crash of a Wal-Mart truck into a car that actor/comedian Tracy Morgan was riding in. Here is a link to a drowsy driving prevention website. This site explains that the only real solution to a tired or drowsy truck driver is to switch drivers or take a nap. Drinking coffee or opening the window is a poor and generally ineffective solution. Recently, Congress has been considering laws to make sure truck drivers get enough rest.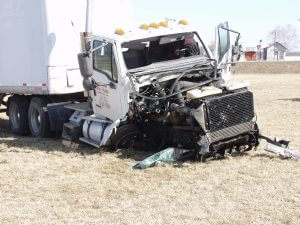 Tired auto drivers cause accidents for sure, but a tired semi truck driver is far more dangerous. If a truck driver loses control of their truck, the consequences are often extreme.  When a truck hits another car on the road the damage and injuries are serious.  With truck drivers in their truck for 8 or more hours a day, they have more opportunity to fall asleep at the wheel and cause a crash. We hope that Congress follows through and improves the law for truck drivers to make sure they get adequate rest before getting behind the wheel. This would make the roads safer for all of us.
LAWYERS FOR CAR ACCIDENT CAUSED BY TRUCK
If you are injured in a car truck accident in Minnesota, please call and speak with a lawyer at our office for a free consultation regarding your case. Our truck accident attorneys will answer your questions and explain your rights. Our top lawyers have more than 25 years' experience handling truck accident injury cases throughout MN. We will hold the semi driver accountable for the damage caused.
Our lawyers work to make sure that your medical bills are paid, wage loss reimbursed, and you get the compensation you are entitled to. You can come to our office, or we will come to you.