USING CELLPHONE TEXTING WHILE DRIVING CAUSES CAR CRASH
Volkswagen recently put out a commercial showing what happen can happen when you look down at your cell phone, even for a moment, while driving. Pretty scary. Our car accident attorneys have represented many people who were injured in Minnesota because another driver was driving while texting – usually causing a rear-end collision.  See for yourself in this video: https://www.youtube.com/watch?v=m3a-hOwPLxQ.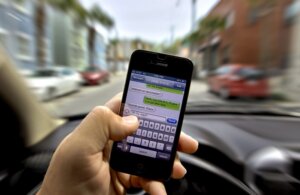 Driving while texting or looking at a cellphone is now one of the most common causes of car accidents in MN and throughout the country. When we get a new car accident case, our lawyers always look to see if the police report mentions cellphone use, and when we sue the other driver we always get their cellphone records.  Of course, the insurance company always gets our client's cell phone records too, to see if our client was using the phone at the time of the crash.
CAR ACCIDENT ATTORNEYS
Pam Rochlin and David Rochlin are experienced Minnesota car accident personal injury lawyers with more than 25 years' experience successfully handling hundreds of injury cases including crashes because the other driver was texting or on their cellphone.  Our lawyers make sure you get the compensation you are entitled to. Pam Rochlin is a former partner at Meshbesher and Spence, but offering small firm attention and personal service.
Pam and David are married, and we treat our clients like they are a part of our family. We have offices where you can come to discuss your car accident personal injury case in Edina, Minneapolis, St. Louis Park and Woodbury. We also meet our car accident clients at their homes in St. Paul, Chanhassen, Chaska, Maple Grove, Apple Valley, Burnsville, White Bear Lake, Brooklyn Park, and other cities throughout Minnesota. We will always provide you with a free initial consultation to answer your questions and we never charge anything unless you are compensated for your injuries.