GOLF CART INJURY
Our attorneys handle cases where our client was injured by a golf cart or was injured in a golf cart accident in MN. We have seen cases where someone was run over by a golf cart, and we represented a golf cart passenger who was injured when the driver lost control and drove the golf cart into a wall.
Fortunately, many homeowners' insurance policies provide coverage for an injury resulting from a golf car accident. That type of insurance covers the person who caused the accident against liability for the golf cart injury. In other words, if YOU are injured on a golf cart that you were driving, your homeowner's insurance will not cover you. However, if you cause an injury to someone else while you were driving a golf cart, your homeowner's insurance will cover your liability.
If you were a passenger on a golf cart and injured because of the person driving the golf cart, the driver's homeowner's insurance will compensate you for your injury including medical bills and lost wages.  One important exception is that if the driver and passenger on the golf cart are related and living together (or in a romantic relationship living together). In that situation, the homeowners insurance will most likely not provide coverage or compensation.
The insurance issues can be complicated, but if you call our office about your golf cart injury, an experienced Minnesota attorney will answer your questions and explain the issues to you. We have also handled cases where someone was hit by a golf ball.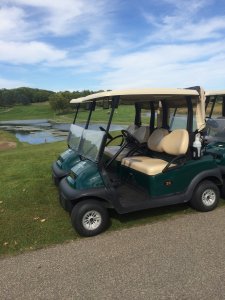 EXPERIENCED INJURY LAWYERS
Pam Rochlin and David Rochlin are Minnesota personal injury lawyers with more than 25 years' experience successfully handling hundreds of injury cases, helping people sort out insurance issues and making sure they get fair compensation. Pam Rochlin is a former partner at Meshbesher and Spence, offering small firm attention and personal service. David and Pam are married, and we treat our clients like they are a part of our family.
If you have been injured because a golf cart ran into you or hit you, or while riding in a golf cart, you can meet an attorney at our offices in Edina, Minneapolis, St. Louis Park and Woodbury.  One of our top personal injury lawyers can also come to your home to discuss your golf cart injury in St. Paul, Chanhassen, Chaska, Maple Grove, Apple Valley, Burnsville, White Bear Lake, Brooklyn Park, and other cities throughout Minnesota. We will always provide you with a free initial consultation and we never charge anything unless we are successful in getting you compensation for your injuries.