DRONE ACCIDENT INJURY CASES INEVITABLE?
Technology keeps advancing and we are constantly being exposed to new devices and gadgets.  At the Rochlin Law Firm, our attorneys have represent people injured in a car accident with an Uber or Lyft driver. We have had handled many cases where an accident was caused because a driver was on a cell phone or texting. Those were not things 20 years ago. Our lawyers have also represented people in laser hair removal machines gone wrong, and many other 21st century type accidents. Although we have not had an accident case yet involving a drone, drone accidents are unfortunately inevitable.
Drones were popular gifts this past Christmas, and we expect to see many of them in the air this Spring and Summer. Hopefully people will be careful when flying them. However, accidents and injuries will happen.  Fortunately, the homeowners insurance of the person flying the drone should cover them for a drone accident. There may be injury caused to another person because of flying the drone negligently or some preventable malfunction like running out of gas while in the air.  Of course if there are too many drone accident injury cases, insurance companies will start to exclude them or require a separate coverage election.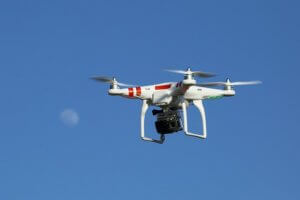 INJURY LAWYERS
Laws have begun to be developed to keep drone use safe. Federal laws have come first, but state laws will follow.  There are obvious concerns with a drone getting in the way of an airplane. But there are also privacy and safety concerns that need to be addressed.
If you are injured in a Minnesota accident because of a drone, please call us and speak with a lawyer for a free consultation.  We will discuss the insurance issues with you and make sure your rights are protected. The primary purpose of our attorneys is to make sure you are fully compensated for your injury.  This includes medical bills and more.