POLICE REPORT OR ACCIDENT REPORT AFTER MN AUTO ACCIDENT
Callers frequently ask our lawyers how they can get the police report or accident report for a car accident they were in.  The auto accident crash report has the names of the parties, witnesses, and insurance companies – all useful information. We have a lot of experience with getting crash reports.  It is one of the first things an attorney does when a new client hires us to represent them in their car accident injury case.  Generally, it is not difficult or expensive to get the police report or accident report after a MN car accident.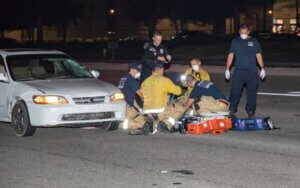 The first step is to know which department to request the report from.  If the police officer gave you a business card at the scene of the car crash, that is where you should start.  Otherwise, you should call the police department for the city where the accident happened and ask them if they responded.  You just have to call the main number for the police department and ask for their Records Department.  However, it is also possible the County Sheriff or State Patrol responded, so you should call them as well.  The police departments will often send the report for free to the people involved in the accident. Further, when they do charge, the cost is often $5 or less.
LAW ENFORCEMENT CONTACT INFORMATION
We have listed contact information below for the big metro agencies. However, you can easily look up any police department phone number or contact information online to request a police report after the car accident. The records department may want you to send a written request for the police report.  In many cases, you can usually go pick it up as well.
For the Minnesota State Patrol, the accident reports are kept at one central office. The phone number is (651) 296-2940.  The address to request a State Patrol report in MN is Minnesota State Patrol – Crash Records Unit, 445 Minnesota Street Suite 161, St. Paul, MN 55101. There can sometimes be additional records at the individual district office of the patrol officer, so you may want to contact them as well. Also, there is a special commercial vehicle department for a truck accident that may have additional information.
Minneapolis Police Department Records Information Unit 350 5th St. S. Room 31 Minneapolis, MN 55415. Phone: (612) 673-2961 or datapractices@minneapolismn.gov. All requests for Minneapolis Police Department data should be in accordance with department policy and Minnesota Data Practices law under Minnesota State Statute 13.82. In addition, public information terminals are available for use in the front lobby during normal business hours. Office Hours: 8 am to 4 pm, Monday to Friday. Closed holidays and weekends. (612) 673-2961.
The contact information for the St. Paul police department is 367 Grove St. Saint Paul, MN 55101 Phone:(651) 291-1111. The contact information for the records department is Phone:(651) 266-5700 or their website.
MN CAR ACCIDENT ATTORNEYS
If you have been injured in a car accident or truck accident anywhere in Minnesota and would like to get the police report or accident report, you are welcome to call us and speak with a lawyer for a free consultation.  Our attorneys have the contact information for most of the police and sheriff's offices in MN. We would be happy to help you get the accident or police report. Of course, we can also help with the insurance compensation issues.
Our car accident attorneys represent people injured in an accident throughout Minnesota, and we come to you. We will answer your questions and make sure your rights are protected. Further, we never charge anything unless you receive compensation.