CAR ACCIDENT ON ICY ROADS IN MINNESOTA
The Star Tribune reported Minnesota state troopers were kept extra busy late Friday and early Saturday. Troopers responded to more than 260 crashes on icy and snowy roads across the state in a 24-hour period. People were injured in 33 of those crashes, a State Patrol spokeswoman said via e-mail. Our lawyers handle many auto accident cases every year where a crash was caused because someone was driving too fast for the road conditions.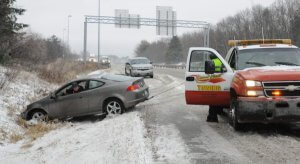 One critical injury was reported in Itasca County. Several of the injury crashes occurred in Stearns and Benton counties, where drivers faced reduced visibility and slick roads during and after light snowfall late Friday.
The State Patrol said 231 of the icy road crashes statewide resulted in vehicle damage. The patrol usually handles 25 to 75 crashes when roads are clear and there is good visibility.
CARS NEED TO SLOW DOWN IN SNOWY OR ICY ROAD
"Drivers need to be aware that road conditions can change quickly, especially on bridges, underpasses and ramps," the spokeswoman said. "Drivers need to drive at a safe speed when there may be ice on the road. Then, if they suddenly lose traction with the roadway, they can still correct and not strike another vehicle or hit the ditch."
The chance of snowfall should return Wednesday. The Weather Service issued a "Hazardous Weather Outlook" for counties in northeastern Minnesota. This could lead to slippery roads, the warning stated.
In an earlier snowfall, on Thursday, a 75-year-old man from Park Rapids, Minn., was killed in a two-car crash on icy Highway 71 in Hubbard County, in north-central Minnesota. A Volkswagen Beetle was driving north on Hwy. 71 south of County Road 44, in Guthrie Township, when it was hit by a southbound Subaru Legacy that had lost control on the slippery road, according to the State Patrol. The Subaru driver and her two passengers all suffered noncritical injuries. All four people involved in the crash were wearing seat belts and alcohol was not a factor, the patrol said.
CAR ACCIDENT LAWYERS
If you are injured in a MN car accident because the other driver was driving too fast on a snowy or icy road, please call us and speak with a lawyer for a free consultation. People should drive at a safe speed so as not to lose control of their car. Our attorneys have over 25 years' experience representing hundreds of people in auto accident injury cases throughout Minnesota.  We will advise you of your rights and make sure you receive the compensation you are entitled to.