TEEN CROSSING STREET HIT BY CAR IN ST. PAUL
A 14-year-old boy was hit by a car while walking in St. Paul Sunday evening. The boy is now in critical condition. A St. Paul police spokesman said the collision occurred about 7:21 p.m. at Cretin and Carroll avenues.  "The driver of the striking vehicle is cooperative, and alcohol does not appear to be a factor," the officer said. According to police: the teenager stepped off a Metro Transit bus and was crossing the street on Cretin in St. Paul when he was struck by a vehicle traveling southbound. Police and fire responded, and transported the boy to Regions Hospital, where he was listed in critical condition. Other details are not available because the pedestrian-car collision remains under investigation.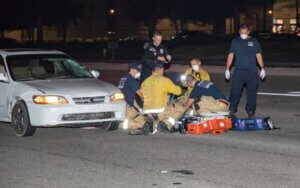 There was also a fatal pedestrian accident at E. 7th Street and Payne Avenue in St. Paul last week. Officers were on patrol when they witnessed a vehicle striking a man about 2 a.m. on Nov. 7. One officer rendered aid, while the other pursued and caught up with the driver, a 24-year-old St. Paul man. However, as of early Monday afternoon, he had not been charged.
INSURANCE CLAIM ATTORNEYS FOR ST. PAUL PEDESTRIAN AUTO ACCIDENT
Our car accident lawyers have helped many people in St. Paul injured because another driver was not paying attention or was texting or using their cell phone. If you were hit by a car in St. Paul or the surrounding area, call us and speak with an experienced lawyer for a free consultation. We will answer your questions and make sure your rights are protected.
ST PAUL CAR ACCIDENT INJURY ATTORNEY
Pam Rochlin and David Rochlin are top MN car accident lawyers with over 25 years' experience representing hundreds of people injured in an auto accident or hit by a car in St. Paul or the surrounding area.  Pam Rochlin is a former partner at Meshbesher and Spence, and the 2015 president of MN Women Lawyers. She has also been voted a MN Personal Injury Super Lawyer for many years.  Our primary focus is to get complete compensation for our clients who have been injured in a car accident. The initial consultation is free and we never charge anything unless you receive compensation.