MULTIPLE CAR ACCIDENTS THIS WEEK FROM ICY ROAD – DRIVING TOO FAST
The Pioneer Press reported three people died in unrelated car crashes on slippery roads this week in Minnesota. Two of these tragic crashes were as a result of Monday's snow.
A St. Paul man died Monday when he lost control of his 1999 Toyota Camry on Minnesota 55 in Eagan. He was traveling east too fast for the snowy conditions, police said, when he began to slide. He then crossed over the median where he was struck broadside by a semi-truck. The 2015 Freightliner truck was traveling west near Lexington Avenue when the collision occurred. The truck driver was not injured.
In another accident, a 51 year old woman from Solway was killed Monday in a single-car crash. She was traveling east on snowy U.S. 2 near Third Street outside Bemidji/. According to Minnesota State Patrol records, she lost control of her vehicle on a slippery road, entered the south ditch and rolled. 
The third accident involved an 89 year old man, from Warroad MN. He was driving his 2004 Dodge Dakota on Minnesota 11 about halfway between Warroad and Roseau. When he attempted to pass another car, his pickup truck slipped off the icy road and rolled over into the ditch. He died at the scene. He was not wearing a seat belt. His passenger was taken to the hospital with critical injuries.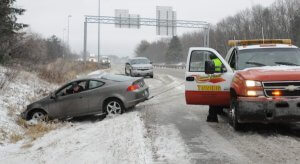 CAR ACCIDENT INJURY ATTORNEYS
Our car accident lawyers have seen many accidents like these over the years. It is very important to slow down when driving on a slippery or icy road. We have had many cases over the years where the person causing the accident said they hit black ice or were not expected to hit ice on the road – so it's not their fault. This is just not true – it is still the other driver's fault if they were driving too fast for winter road conditions.  You have to drive slower and more carefully in the winter and be aware that there can be ice at any time. The risk to life and property is just not worth it.
Our attorneys have been successfully representing people injured or killed in a car accident for over 25 years. We have helped many families during these times of tragedy. We are experienced, tough, and we make sure you receive the insurance compensation you are entitled to.