GET YOUR FLU SHOT AT AN ACTUAL CLINIC NOT A RETAIL STORE LIKE WALGREEN'S OR TARGET
It is convenient to get a flu shot at a store like Target or Walgreens. They even give you a $5 gift card. The problem is they make you sign a liability waiver.  This means you agree that they are not responsible for any injury you get from the flu shot, even if it is their fault.  For example, if there is a bad batch of the flu vaccine and you get sick, you can't sue.  Likewise, if Target or Walgreens stores the vaccine improperly or mishandles and infects the needle they use on you, they won't be responsible.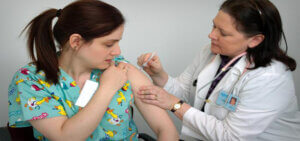 These stores should not be allowed to require a waiver before giving a flu shot.  Most of the time, the waiver is in small print and people don't even know what they are signing. Few customers would expect that a store is not responsible for giving a defective shot if the store did something wrong. However, when you sign a waiver, that is exactly the situation.
AVOID SIGNING LIABILITY WAIVER
You don't have to get your flu shot from Target or Walgreens. Any medical clinic can give you a flu shot.  You usually don't need an appointment, and the wait at a clinic is often less than at Target or Walgreens.  A medical clinic will not make you sign a waiver to get the flu vaccine.  Also, your insurance will pay for the shot the same as they would at Target or Walgreens. The only thing you lose is the $5 gift card. Most medical clinics don't offer a gift card, but it's worth it to avoid signing a waiver.
Your chances of having a problem from a flu shot are extremely small no matter where you get it done.  But why take the chance of a problem and let Target or Walgreens escape responsibility? They make money by giving the shots, so they should be responsible in the unlikely event that something goes wrong.