EVERY MONTH SHOULD BE MOTORCYCLE AWARENESS MONTH
Our lawyers have represented many people injured in motorcycle accidents. Most of those cases involve a negligent automobile driver who fails to see the motorcycle on the road. Unfortunately, when a car hits a motorcycle, the injuries to the rider are often serious. The U.S. Department of Transportation recently declare May 2022, Motorcycle Safety Awareness Month. The Department notes that in 2019, there were 5,014 motorcyclists killed in traffic crashes, a decrease from 2018 (5,038). These deaths accounted for 14% of the total highway fatalities that year. Even the smallest momentary lapse in a vehicle driver's awareness can result in the death of an unseen motorcyclist. In addition, of course, there are many more serious injury cases every year.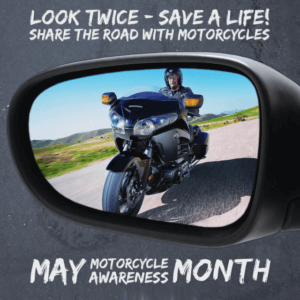 At the Rochlin Law Firm, our attorneys take motorcycle injury cases very seriously. In most cases, the driver is just not paying attention to the road. It is no excuse that the car "did not see the motorcycle." Motorcycles are allowed to be on the road and cars need to watch out for them. It is the responsibility of every driver to watch the road and avoid accidents. When the driver of a car fails that responsiblity, they must be held accountable.
COMEPENSATION WHEN MOTORCYCLE HIT BY CAR
There is a reason every vehicle in Minnesota is required to have insurance. Mistakes happen and people are injured. When a car hits a motorcycle, there is often significant medical bills incurred. Furthermore, the motorcycle rider may be out of work for a period of time and lose income. In many case, the motorcycle rider is unable to take care of their household duties or acivities of daily living. All of these things require compensation. In addition, the motorcycle accident victim is entitled to pain and suffering compensation for what they have to go though now and in the future.
If you have been injured in a motorcycle accident after being hit by a car or truck, call us for a free consultation. A top motorcycle accident lawyer will answer your questions and protect your rights. The primary focus of our attorneys is to make sure you get the compensation you need and are entitled to.