INJURED IN AUTO ACCIDENT OTHER DRIVER RAN STOP SIGN – LAWYER MN
Distracted driving is a serious hazard on the roads in Minnesota.  Our car accident lawyers represent many people each year who are injured because the other driver didn't stop for a stop sign – often because of distracted driving.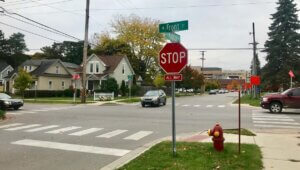 We have represented pedestrians walking across the street who are injured by a car that ran a stop sign, bicycle riders, motorcycles, and others. Those cases can often result in a serious injury because of the weight and momentum of the vehicle coming into contact with the unprotected person.  Our best car accident attorneys have represented people with serious orthopedic injuries, brain injury, internal organ damage and others.
Most stop signs are on a residential road or rural road, which receives less traffic. On a residential road in particular the driver should be paying attention and not texting or using a cell phone. Running a stop sign on a residential road is where most of the cases of hitting a pedestrian or bicyclist occur.
ISSUES WHEN OTHER CAR DIDN'T STOP FOR STOP SIGN
The insurance company will sometimes still try to put some blame on our client. They may argue that the victim should not have crossed the road with a car coming, even with the stop sign there. Sometimes there can be a little truth to this, but definitely not if the walker or rider was already in the intersection as the car started to approach.  In fact, it is even worse for the driver in that situation because the driver should have seen the stop sign AND our client on the road. There is just no excuse for running a stop sign in that situation.
When the stop sign is on a rural road or highway in MN, pedestrian or bicycle injuries from a car not stopping for the stop sign are less common.  Usually in those cases, our attorneys represent the driver or passengers in a car that is hit from the other car not stopping for a stop sign. However, those crashes can also produce a significant injury because the cars are often traveling at higher speeds on the highway or rural road.
TOP CAR ACCIDENT LAWYERS
If you are injured in an auto accident in MN because the other car or vehicle ran a stop sign or stop light, please call us and speak with a lawyer for a free consultation.  Our car accident lawyers have over 25 years' experience representing hundreds of people throughout Minnesota.
We have offices in Edina, Minneapolis, St. Louis Park and Woodbury, where you can meet with an attorney to discuss your car accident case because the other driver did not stop.  Our lawyers also meet people at their homes throughout Minnesota. We are tough and get results. However, we are also compassionate and patient with our clients. You will always be able to speak with a lawyer at our office, not just assistants and staff. An attorney will answer your questions. The initial consultation is free and there is never any charge unless you receive compensation for your injury.