TRUCK DRIVER AT FAULT IN ACCIDENT – INJURY COMPENSATION LAWYERS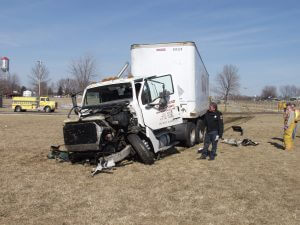 A Little Falls man died from injuries sustained in a single-vehicle accident in Eden Prairie at about 7 a.m. Saturday, Nov. 6. According to the Minnesota State Patrol, the man was heading south in a semi-truck hauling potatoes on Interstate 494, near Valley View Road. His truck then drifted onto the right shoulder and into the ditch. The 2013 Peterbilt truck rolled over, coming to rest on its roof. Semi trucks are built with many safety features.  However, the drivers do not always take advantage of them.
The State Patrol report did not list a cause of the crash. It states that the man was wearing a seatbelt, and it was unknown if alcohol was a factor. The truck's airbag did not deploy. The State Patrol was assisted by the Hennepin County Sheriff's Office and the Eden Prairie police and fire department.
There are many possible causes of a semi truck crash.  Unfortunately, the driver of a semi is often encouraged to work very long hours.  Therefore, there are many trucks on the road with a tired or sleepy driver. There are also distractions in the truck. Every truck driver has at least one phone and a GPS device. There can be other electronic devices in the truck as well.
TRUCK ACCIDENTS IN EDEN PRAIRIE
Although this case was tragic for the truck driver, at least no one else was injured. There are trucks going through Eden Prairie every day. At the same time, Eden Prairie is a suburb with mostly residential housing. The truck could have hit a car when the driver lost control.
At the Rochlin Law Firm, our lawyers have more than 25 years' experience representing truck accident victims in Eden Prairie and throughout Minnesota. If you have been injured in a car – truck accident, call us for a free consultation.