INJURED IN HUNTING ACCIDENT – SHOT IN HUNTING ACCIDENT – MN ATTORNEYS
Hunting is a great Minnesota tradition for friends and family.  In our own family, we currently have three generations that hunt together on land owned by the family, and it is an activity that bonds the family together.
Fortunately, no one has ever been injured on our family's hunting land, but our top MN injury lawyers know that a serious injury accident from a shotgun or rifle can happen.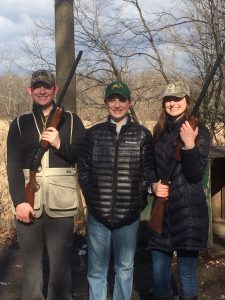 The nightmare everyone thinks about in a hunting accident is someone being accidentally shot.  Hunters need to know where everyone is, and precautions must be taken to avoid that kind of tragedy. However, despite every hunting group's best intentions there are several incidents every year in Minnesota or a nearby state where someone is accidentally shot with a shotgun or rifle while hunting. Our personal injury lawyers will represent the person injured in the hunting accident.
HOMEOWNERS INSURANCE FOR HUNTING ACCIDENT
Our experienced MN attorney will investigate the case, interview witnesses, work with the DNR and police. We will help determine what was the cause of the gun accident and who is responsible.
Our hunting accident lawyers will work with the homeowners insurance for the person who accidentally shot someone, and make sure the medical bills are paid and the injured person is properly compensated.
However, while a hunting gun accident is a real concern, people are actually more frequently injured in other ways in a hunting trip. For example, car accidents on two lane roads in rural areas are common.  Also, there are many collisions in hunting areas every year between a car and a deer.  Our attorneys have had several opportunities to represent a passenger where the driver of the car hit a deer in Minnesota because the driver was driving too fast or not keeping a proper lookout during the deer's feeding time.
INJURED AT HUNTING LAND
We have also represented people injured because of a gas explosion in a hunting trailer after someone lit the pilot light in the oven or heater.  This type of injury can be very severe and result in lifelong pain and scarring.  Unfortunately, there are also hunting accidents in MN every year where the hunter is injured because of some condition of the property, including a defective deer stand or some hidden condition or trap on the hunting land itself.  A case of this type can be very difficult, but if the injury is significant enough, our lawyers will investigate it to look for a possible claim.
If you have been injured in a hunting accident in Minnesota because you were accidentally shot, or for any other reason, call us and speak with an experienced personal injury attorney.  We will fully explain your rights and discuss your entitlement to fair compensation from the hunter's homeowners insurance. The initial consultation is always free. A top MN lawyer will help determine if the homeowners insurance covers the hunting accident injury in your case, and we will make sure you are fully and fairly compensated, including medical bills, lost wages and more.
HUNTING ACCIDENT MN INJURY LAWYERS
At the Rochlin Law Firm our attorneys have 25 years' experience successfully helping hundreds of people who have been injured in an accident on hunting land and other types of accidents. Our primary focus is on getting full and fair compensation for our clients. Pam Rochlin is a former partner with Meshbesher and Spence and was the 2015 president of Minnesota Women Lawyers – an organization with over 1300 members.
A lawyer will discuss your hunting accident case with you, explain your rights, and make sure you get fair compensation for your injuries. We have offices in Edina, Minneapolis, St. Louis Park, and Woodbury. A hunting accident lawyer from our office can also meet you at your home anywhere in Minnesota. There is no obligation on your part, the consultation is free, and we never charge anything unless you receive compensation for your injuries.