AUTO ACCIDENT DEDUCTIBLE – MN ATTORNEYS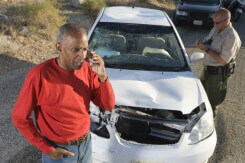 Our lawyers are frequently asked this question: I was in a car accident and my vehicle was damaged, can I get my insurance deductible back if the crash was the other driver's fault?
First, of course, you don't have to go through your auto insurance. If you are in an automobile accident that is the other driver's fault, you can recover the cost to repair or replace your car directly from the other driver's insurance. In that case, you will NOT have to pay a deductible at all. However, if you have collision coverage on your car, you also have the option to submit the claim to your insurance company even though the other driver was at fault.
The reason you might submit the claim to your insurance even though the other driver is at fault would be convenience. It is often easier to deal with your own insurance company.  In that situation, your insurance company will initially subtract the amount of your deductible from their payment, However, if the other insurance accepts liability, your insurance company will get the deductible back for you and send you a reimbursement check.
YOUR INSURANCE COMPANY CAN HELP WITH THE DEDUCTIBLE 
If the other driver is uninsured, or his insurance company won't admit the accident was his fault and refuses to pay, your only option is to submit the claim to your insurance company. If you have collision coverage, your insurance company will pay to fix or replace your car, minus the amount of your deductible.  Your insurance will then try to get their money back from the other driver's insurance or from the other driver if he is uninsured. They will do this through arbitration with the other insurance company or suing the uninsured driver.
When your insurance company is successful at getting money from the other driver or his insurer, they will pay you back your deductible at the same time. Click here for more information about MN auto insurance.
If you have questions about getting repaid for the damage to your car after a crash in Minnesota, or questions about your deductible, you are welcome to call us and speak with an attorney for a free consultation. If you have been injured in a MN auto accident, you should call us as soon as possible so that our car accident lawyers can investigate your case and advise you of your rights.
CAR ACCIDENT LAWYERS
We are personal injury lawyers handling cases throughout Minnesota. Our lawyers have successfully handled hundreds of car accident injury cases over the last 25 years. A MN car accident lawyer will provide you with a free initial consultation, and we only ever charge based on a percentage of your injury settlement.
We provide big firm experience and small firm attention. We have offices in Minneapolis, Edina, Woodbury, and St. Louis Park where you can meet with a lawyer about your car crash in MN.  Our attorneys also meet people at their homes in many surrounding cities including Chaska, Chanhassen, Apple Valley, Burnsville, Brooklyn Park, Maple Grove, St. Cloud, Rogers, St. Paul, etc. You can contact us by phone or email using the contact information on the web site.