CHILD BIT BY DOG – MN LAWYER
Our attorneys have handled many cases in Minnesota where a dog bites a child, usually a neighbor's dog at the neighbor's house. If your son or daughter is bitten or attacked by a dog in MN, you may have the right to recover medical bills for treatment, plus compensation for your child for their scars and pain and suffering. The dog bite law in MN is very strict to make sure that a dog owner is held responsible for any injury caused by their dog.  Fortunately, most homeowner's insurance policies provide coverage for injuries caused by pets, which usually offers a degree of comfort to the dog owner, especially if the dog is owned by a neighbor, family friend or relative.
If your child was bitten by a dog in Minnesota, or your child is injured by a dog, please call us for a free consultation.  A lawyer will discuss the situation with you and answer your questions. Our personal injury attorneys have over 25 years of experience successfully handling hundreds of injury cases, including many cases involving a dog bite or dog attack. We know how to deal with the dog owner's insurance to get a full settlement for your child. We are a family owned law firm and we offer personal attention to your case and help for your family. Our attorneys know what to do and how get fair compensation if your child is bit by a dog in MN.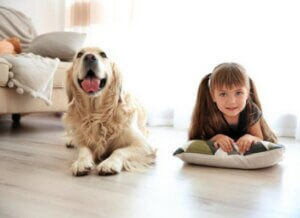 We recently came across an article that discusses why dogs bite children and our attorneys wanted to share it with others in an effort to prevent future incidents:
As reported in the medical journal Injury Prevention, researchers at the veterinary behavioral clinic examined 111 cases of dog bites by 103 dogs (representing 41 different dog breeds) that took place over a four-year period.
Several notable patterns came to their attention: the dogs displayed territorial behavior, anxiety, or were coping with medical issues at the time the biting occurred.
Researchers suggest the main cause of aggression in dogs stems from territorial behavior:
Children under the age of 6 were more likely to be bitten when a dog felt the kids were threatening to take his food or toys.
Older children were bitten when the dog felt the kids were intruding on his territory.
A dog was more likely to bite a child he knew while he was guarding his food.
A dog was more likely to bite children he didn't know while he was protecting his territory.
Anxiety May Lead to Biting
Of those dogs studied, three quarters exhibited anxiety due to:
Separation distress
Sudden noise such as thunderstorms or fireworks
Noise and unpredictable movements from young children
An anxious dog frightened under these circumstances may be more prone to bite a child, whether or not they are familiar with them.
Pain Pushes Dogs Over The Edge
Common sense may tell an adult not to touch a dog in pain. A child, however, may not be able to recognize when a dog is hurting. In fact, half of the dogs studied by researchers had medical conditions such as liver and kidney disease, eye problems, and diseases that affected their bones and skin.
Other studies have revealed that kids ages 5 to 9 are bitten five times more by dogs more than any other group or people. Their loud, energetic and sometimes aggressive actions simulate behavior displayed between young dogs. What do dogs typically do when playing with one another? They bite. The faster and louder kids get, the more dogs become stimulated.
In addition, a dog will bite when they don't like the way someone is playing with them. Study a fed-up dog's behavior: a turned back, lying down, a curled lip, or growling are all signs that the dog does not like the behavior of the child. Children tend to tug on dogs' ears, pull on their tails or jump on their backs. While some dogs may tolerate this, others will grow tired of it quickly.
Our dog bite attorneys in MN have handled injury cases for children in Minneapolis, St. Paul, Anoka, Rogers, Maple Grove, Plymouth, Brooklyn Park, Brooklyn Center, Chanhassen, Chaska, Apple Valley, Burnsville, Albert Lea, Woodbury, and throughout the state. A lawyer will meet you at one of our offices or at your home.