MAIL CARRIERS ARE EXPOSED TO MANY HAZARDS
Our lawyers recently settled a case for a Minnesota Post Office mail carrier where the carrier was walking up the steps of a house. The steps gave way, so the carrier fell through the steps and injured his leg. These were cement steps. They looked a little crumbly, like you could possibly trip on them, but there is no way a person would expect to actually fall through them.
In this case, the homeowner had patched the steps a few years earlier, but had done a poor job. The homeowner had just put in some chicken wire and a thin layer of concrete over it. Eventually, the whole thing wore down and collapsed. Our letter carrier client wasn't overweight, the steps just wore down over time and collapsed while he happened to be walking up to deliver property owner's mail.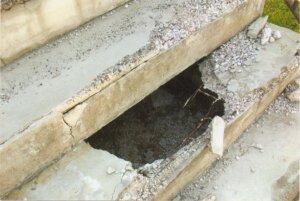 POSTAL WORKER BIT BY DOG
There are many ways that postal workers can by injured while delivering mail, and our Minnesota personal injury attorneys have worked on quite a variety of these cases. The most frequent cases our lawyers handle for an injured mail carrier are dog bite or dog attack cases. Fortunately, most of the dog bite injuries are not too serious, usually just puncture wounds – but they are still worthy of compensation after the letter carrier has to seek medical care and take time to recover.
Generally, a mail carrier is good about avoiding dogs to begin with and knows how to handle a dangerous dog when they come up. However, we have had a few dog attack cases where the dog has knocked the carrier over and caused a more serious injury that way.
LETTER CARRIERS INJURED ON OWNER'S PROPERTY
Unfortunately, postal workers are more seriously injured when they encounter unexpected dangerous conditions created or left uncorrected by homeowners. The second most frequent type of case our injury lawyers handle for a mail carrier in MN are slip and fall or trip and fall cases on property, usually at someone's house. The Post Office does a very good job in training its delivery workers on safety precautions, but sometimes there is just nothing the carrier can do to avoid a hidden or unexpected dangerous condition.
Our recent case where the postal carrier fell through the steps is a good example, but our accident injury attorneys in MN have also represented postal workers who have been injured because they slipped and fell on hidden ice and other dangerous conditions while delivering a package or mail. The mail delivery person can receive workers compensation from the Post Office and still sue whoever is responsible for the accident. In fact, bringing a claim against the property owner benefits the post office, because the post office will also get reimbursed for their payments when we settle the case.
HOW TO CONTACT AN ATTORNEY
Pam Rochlin and David Rochlin are experienced Minnesota personal injury lawyers with more than 25 years' experience successfully handling hundreds of accident cases, including injured mail carriers. Pam Rochlin is a former partner at Meshbesher and Spence, offering small firm attention and personal service. Getting fair compensation for our clients is our primary focus. We have offices where you can come to discuss your personal injury case with a lawyer in Edina, Minneapolis, St. Louis Park and Woodbury.
We also meet post office letter carriers and other clients at their homes in St. Paul, Roseville, Forest Lake, White Bear Lake, Apple Valley, Burnsville, Anoka, Brooklyn Park, and other cities throughout Minnesota. When you call our office, an experienced lawyer will always provide you with a free initial consultation and we never charge anything unless you are compensated for your injuries.