CAR CRASH WITH NO AUTO INSURANCE, NO DRIVERS LICENSE
One of our lawyers recently met with a new client in Albert Lea MN. She is a schoolteacher who was on her way to work when another car took a curve too fast on an icy day. The other driver lost control of his car and crashed into her. Now she is suffering from a concussion and has missed many days of school. Unfortunately, she may miss many more. She is a dedicated schoolteacher who wants to teach her students, and the students need her in the classroom. The school district now must pay a substitute teacher to fill in, and the continuity of the classroom is being disrupted.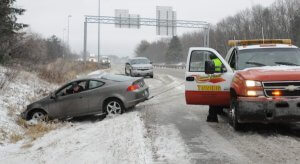 The driver of the car that hit her had a revoked driver's license and no auto insurance. He said that he had "borrowed" the car from a car "dealer." The dealer was actually just a guy operating a small lot in the middle of nowhere. He had no Minnesota auto dealer's license and, of course, no insurance. The dealer is now apparently claiming that he had sold the car to this driver the day before. Therefore, the car, and the car accident, is not his responsibility.
There is no evidence so far that the dealer really sold the car to the driver. However, even if he did, he sold it without having a dealers' license and complying with Minnesota laws. And he sold it to a driver with no driver's license and no insurance, who then caused a crash.
HOW TO SUE WHEN OTHER DRIVER DOESN'T HAVE INSURANCE
So what will the penalty be for the unlicensed, uninsured driver who hit and injured the driver of another car? Will there be a penalty for the unlicensed, uninsured dealer who loaned or sold him the car?  Stay tuned. Based on prior experience of our car accident lawyers, there will be little if any penalty for the driver with no auto insurance. Yes there are laws, but they are rarely enforced. It is a very frustrating situation for our lawyers to watch.
The only helpful factor is that our teacher client has her own car insurance. Her insurance includes collision and UNINSURED motorist coverage.  That covers situations like this where someone is hit by an uninsured driver. Her auto insurance will therefore still pay for her car damage, medical bills, and lost wages. Technically her insurance then has the right to pursue the other driver and the dealer to get their money back. However, that is a very difficult and unlikely task. It is really up to the MN legislature and police to make and enforce laws regarding automobile licenses and insurance. Unfortunately, the state seldom lives up to that responsibility.
CONTACT A CAR ACCIDENT LAWYER
Pam Rochlin and David Rochlin are experienced Minnesota car accident personal injury lawyers. We have more than 25 years' experience successfully handling hundreds of car accident injury cases. Pam Rochlin is a former partner at Meshbesher and Spence, offering small firm attention and personal service to our automobile accident clients. David and Pam are married, and we treat our clients like they are a part of our family.
We have offices where you can come to discuss your case with a lawyer in Edina, Minneapolis, St. Louis Park and Woodbury.  An attorney will also meet our car accident clients at their homes in St. Paul, Chanhassen, Chaska, Maple Grove, Anoka, Apple Valley, White Bear Lake, Forest Lake, Brooklyn Park, and other cities throughout Minnesota. We will always provide you with a free initial consultation. In addition, we never charge anything unless we are successful in getting you compensation. Even if the driver that hit you has no insurance, our lawyers can advise you and often get you compensation for your injuries.