SNOWMOBILE ACCIDENT INJURY RIGHTS
Now that we finally have some snow and cold, we can get out for some Minnesota winter fun. Snowmobiling is a popular activity for the Rochlin family. In fact, snowmobiling is one of the reasons Minnesota is such a great place to live. However, as personal injury lawyers, we sometimes represent people in snowmobile accident injury cases. Of course, some snowmobile accident cases involve alcohol, but not all. Unfortunately, a negligent driver can injure the snowmobile passenger in many situations.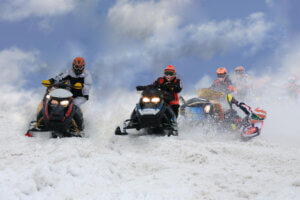 Here is one thing you may not know about a snowmobile accident: If you are riding a snowmobile and are hit by a car, you are entitled to automobile no-fault insurance benefits. This includes medical bills and wage loss. The No-Fault insurance comes from your own auto insurance, even though you were riding a snowmobile. If you don't own a car, you can still get No-Fault coverage from the car that hit your snowmobile. No-fault insurance will pay your medical bills and wage loss even if the crash is your fault. If the crash is the car driver's fault, i.e. your snowmobile is hit by a car, you will be entitled to additional compensation as well.
LAWYERS FOR SNOWMOBILE INJURY ACCIDENT
If you or someone you know is injured in a snowmobile accident, either as the driver or passenger on a snowmobile, please call us or contact us through this website. An experienced injury lawyer will provide a free initial consultation. We will explain the insurance issues and your rights. Our lawyers handle serious injury and death cases throughout Minnesota.
We have offices in Minneapolis, Edina, and Woodbury where you can meet with an attorney about your snowmobile accident. Our lawyers will also come to your home or meet by Zoom after you were injured riding a snowmobile. Our primary focus is to make sure you get the compensation you are entitled to.