ACCIDENT INJURY COMPENSATION MONEY IS NOT LIKE LOTTERY WIN
Our Minnesota personal injury attorneys have recovered millions of dollars for people who have been injured in accidents. We handle accidents throughout MN. This includes auto accidents, motorcycle accidents, dog bites, defective product injuries, slip fall accidents, etc.  However, the amount of money you get for an accident is directly related to the seriousness of your injury.
Everyone wants to get fair compensation if they are injured because of another person's negligence. Our lawyers work hard to make sure our clients are treated fairly and get everything they are entitled to.  Still, the amount of money you get for an accident depends mostly on the extent of the injury. For example, is there a permanent injury? Was surgery required? Can the injured person return to work? What types of activities have been affected?  Will there be future medical bills? etc.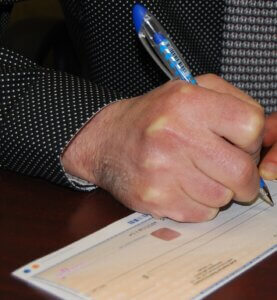 When a lawyer in our office gets a big injury settlement for a client, the client's friends or family sometimes look at it like our client won the lottery.  In some cases, the amount of money is similar to how much people get for winning a lottery. However, it is really not like winning the lottery at all.
THE COST OF BEING INJURED IN AN ACCIDENT
There is a big difference between getting a large injury settlement and winning the lottery: the cost for a lottery ticket is a dollar or two.  The cost for a big injury settlement is a serious injury. There may be multiple surgeries, the loss of a career, or loss of significant enjoyment of the activities of life. In many cases, there is a lifetime of future pain and suffering.  That is not free money like winning the lottery. In fact, it is not really winning at all.
An injury settlement is compensation to try to offset a significant loss to the injury victim.  The person injured in the accident did not volunteer for the injury to get money – they were forced into it. Our attorneys just try to balance things out for them.
If you have been injured in an accident in Minnesota, call us and speak with an attorney for a free consultation.  Our personal injury lawyers have over 25 years' experience successfully representing people throughout MN.  An accident injury lawyer will explain your rights to you, answer your questions, and make sure you get the compensation you are entitled to.