YES YOU CAN SUE FOR CAR ACCIDENT EVEN IF YOU WERE DRIVING WITHOUT INSURANCE IN MINNESOTA
Can a person who doesn't have insurance on their own car can still sue the other driver in an accident? Our lawyers have been asked this car accident question many times.  The answer is yes. If you were driving without insurance, you can still get compensation if the other driver was at fault.
In MN, the law requires every driver and car owner to have insurance for the automobile when they are on the road.  Unfortunately, for a variety of reasons, not everyone complies with this law. If you are hit by an uninsured driver, your own auto insurance is required to step in and provide you with uninsured motorist benefits. Our car accident lawyers represent many people who have been in a crash caused by an uninsured driver.
However, we also get calls from people who were driving without insurance and injured in an accident that was the other driver's fault.  The uninsured driver is rightfully scared that they will get into trouble. They also worry they will lose their right to compensation because they did not have insurance.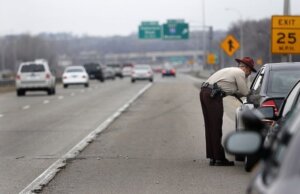 IF OTHER DRIVER WAS AT FAULT, THEIR INSURANCE IS STILL RESPONSIBLE
You very well might get into trouble for driving without insurance. However, the trouble you will get into is limited to a ticket and fine for the violation of the law.  Because you don't have car insurance, you will also obviously not be entitled to the benefits that would come from your own auto policy. For example, you won't have collision coverage or No-Fault medical and wage loss benefits.  However, if the crash was the other driver's fault, you are still entitled to compensation from their insurance and you can sue them if necessary.
If you have been injured in an accident that was another car's fault, call us for a free consultatio.  Even if you were driving without insurance on your car, our attorneys can help you. Our top rated MN car accident lawyers have more than 25 years' experience representing hundreds of people throughout Minnesota.  We have successfully recovered millions of dollars for people in auto accidents of all kinds. You can meet with a lawyer at our office, or we will come to your home.  The initial consultation is free, and we never charge anything unless you receive compensation for your injuries.